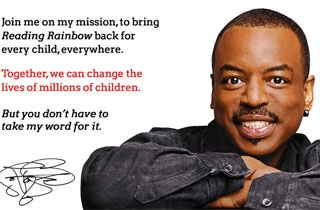 Somewhere, in the dankest corners of the internet, is a strange society of trolls that believe LeVar Burton's Reading Rainbow Kickstarter is a dumb idea. These people think that the show, which taught an entire generation of kids to love reading, is a failed show (it went off the air in 2009), and that Burton seemingly wants to profit off the project.
In an interview with ThinkProgress, LeVar Burton addressed the criticism with very strong words: "The idea that I am trying to somehow revive a failed endeavor is bullshit," he said. "That's right. I said it. Bullshit."
His points: Reading Rainbow wasn't cancelled due to unpopularity or ineffectiveness, but due to the policies set by No Child Left Behind. "That government policy made a choice between teaching the rudiments of reading and fostering a love of reading," he noted. "How do you make that choice? I'm sure it was a tough choice. I'm sure the idea, the principle, the spirit of No Child Left Behind is great and noble. How you accomplish that makes all the difference in the world."
In fact, Reading Rainbow was highly successful, and, with a bit of Web 2.0 tweaking, will probably continue to be successful. Back when the show launched "the debate was all around: is television ruining our kids? We just went to the point of purchase, where kids were hanging out, and brought them back to the written word. And we're doing the same thing now, using the prevailing technology of the day. Then it was TV, now it's digital media."
Yes yes yes, but back to the point: should we teach kids to read, or should we teach our kids to like reading?
"I wish I knew. What I do know is that a sustainable society needs both. You need to teach your children how to read, and you need for them to love to read. If you want free, independent thinkers, people who can discern for themselves, people who want to actively participate in a democracy, you want them literate. If you want to control people, if you want to feed them a pack of lies and dominate them, keep them ignorant. For me, literacy means freedom. For the individual and for society."
The Kickstarter's currently raised nearly $3.5 million dollars, meaning that people who donate to this campaign like freedom and democracy.
[ThinkProgress]
[Image via Kickstarter]
—
>> Follow Tina Nguyen (@Tina_Nguyen) on Twitter
Have a tip we should know? [email protected]