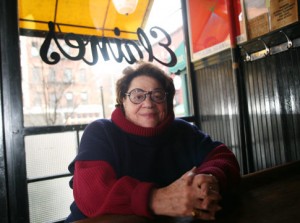 On Friday, Elaine Kaufman, the legendary owner of New York landmark Elaine's restaurant, passed away. Below is a tribute from one of her most loyal supporters.
On the night of September 11th, after a day of confusion and sadness and loss, there was only one place I could think of going. This past Friday, after another such day, I went to that same place. I went home. To Elaine's.
For the last decade-and-a-half, I spent more nights in Elaine Kaufman's restaurant than anywhere else on Earth; a rough calculation in my head reveals that her staff served me somewhere in the vicinity of 1300 dinners. But how many amazing relationships formed in her saloon, how many story ideas were birthed, introductions made, laughs shared, lessons learned? That's a calculation impossible to make, in part because the gifts Elaine gave me will never stop paying dividends.
It was my friend Steve Perrine who introduced me to Elaine's back in the late 1990s. Like anyone walking in under that iconic awning, I was intimidated at first; this is the place where legends lived, where writers and editors with names like Lapham and Plimpton and Talese ruled. Yet within weeks, Elaine had taken me under her wing. When I was offered the job as Editor in Chief of Men's Health, Elaine convinced me I could do it, and do it well. To that end, she did whatever was in her power to help me succeed. Elaine lived for two things: inspiring people to do more than they ever imagined possible, and making the interpersonal connections that allowed those things to happen.
The relationships that grew at Elaine's were incredibly organic, spurred by like-minded people sharing a home where creativity and ambition were nurtured. I remember sitting with the writer Bruce Jay Friedman, who seemed downcast. "My dog's suffering from depression," he lamented. "And I think it's my fault!"
What was I to say? As Steve, to this day, likes to remind me, "There are no such things as problems. There are only story ideas." Within days, Bruce was under contract—his account of being treated by a dog psychiatrist is a Men's Health classic. I remember bonding with David Halberstam over our dads, both of whom died young after decades of neglecting their health, and David wrote a powerful account of his anger over the matter for me. I remember soon after getting the Men's Health job, Steve and I were having a drink with Terry McDonell, now editor of Sports Illustrated. As we got up to leave, Terry called after us: "Enjoy your journey into infinite possibility."
Infinite possibility was what you encountered every night at Elaine's. I remember dinner with Bill Bratton, who went on to become the police commissioner of Los Angeles, and a friend, thanks to Elaine's introduction. I remember meeting Judith Reagan, another big hitter who came to me through Elaine, who was among the first to urge me to start writing books. Elaine soon joined in the chorus, offering to host a book party for me. (When those two people decide you have a book in you, you'd better listen.)
I remember, too, the beginnings of a friendship with a retired FBI agent named John O'Neill, who told a group of us over dinner one night that he was leaving the bureau to take over as head of security for the World Trade Center. He started his job just three weeks before September 11th. Sitting at Elaine's that night, we knew he was gone.
What made Elaine's even more memorable, of course, was the theater. Elaine was welcoming, nurturing, kind, but tales of her temper? Well, those too are mostly true. I was there on the legendary night when she confronted Geraldo Rivera, who had commandeered a large table but failed to order dinner. When Rivera pointed out that Sylvester Stallone and Bill Stanton were at the next table, and they hadn't ordered dinner either, Elaine erupted, tore up his check, and stormed over to have a seat at my table, Table 3. As an embarrassed Rivera slinked out with his party, Elaine yelled to him, "And don't send me flowers in the morning!"
Elaine taught me that being passionate, being engaged with your work, day in and day out, was the key to succeeding. Weekends, weeknights, holidays, special occasions—you went to Elaine's no matter what the calendar said, and you could be certain that she'd be there. I remember when she took me to game seven of the 2003 American League Championship series between the Yankees and Red Sox. I picked her up at her home a few blocks from the restaurant and we drove to Yankee Stadium, where we pulled up near to a special elevator that whisked us to Steinbrenner's box. Steinbrenner's box! A sports geek's wet dream. We watched as the Yankees clawed their way back from a 5-2 deficit to tie it with two outs in the 8th inning. But as the nail-biter headed into the 9th, Elaine announced it was time to leave—because she'd be missed at the restaurant. We watched Aaron Boone's 11th inning home run send the Yankees into the World Series from the best seat in the house. Except the house wasn't in the Bronx, it was on Second Avenue.
At Elaine's, I learned that a great restaurant was like a great magazine—a collection of unique voices speaking a common language. As the years passed, I started to dream of having a place like that of my own. And over time, I drifted downtown, spending less time at Elaine's and instead imagining plans for my own eventual foray into the business. But like any prodigal son, I returned. I was there the Monday before Thanksgiving, after a long absence. It was one of the few times I had ever eaten there and not seen her patrolling the floor. She was in the hospital with an infection, I was told. It was nothing. She'd be back soon. Of course I believed it. Any other outcome was impossible.
On Friday night, Elaine's was packed. The regulars—Josh Gaspero, Pete Bonventre, Neil Leifer—were gathered in their usual places. The celebrities and the powerbrokers were on hand too—Governor Paterson's security team staked out the entrance to the restrooms and Alec Baldwin, a late arrival, got shuttled to the back. But despite the reverie and the chatter, I had a queasy feeling, like I was at a birthday party, and the birthday girl wasn't showing up.
And although in my head, I knew it wouldn't be happening, in my heart I kept waiting for the main event of every night at Elaine's: The moment when the woman herself would walk through the door and, no matter what was happening outside those walls, all would be right with the world.
Have a tip we should know? [email protected]
---