David Brock Writes Open Letter to Sanders: 'Halt All Negative Campaigning' Against Hillary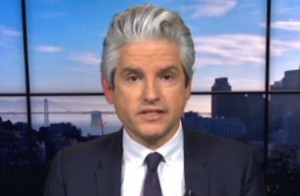 David Brock, founder of Media Matters and pro-Hillary Clinton, wrote an open letter to Bernie Sanders today asking him to stop the negative attacks against his favored candidate.
It literally starts out by Brock saying, "I'm writing today to urge that you and your campaign immediately halt all negative campaigning against our party's prospective candidate for the Presidency, Secretary Hillary Clinton."
He says that Sanders has broken his promise not to go negative with a "relentlessly ugly barrage of false character attacks":
These attacks –- ranging from baseless insinuations that Mrs. Clinton is somehow compromised in her ability to support meaningful reform in the financial sector, when her record shows the opposite, to unfairly impugning her reputation as a true progressive, despite her 40 years of committed, passionate advocacy – must cease.
And Brock makes no secret of why he wants Sanders to stop attacking Clinton: because he's "helping Karl Rove and his ilk do their general election dirty work."
Brock warns that Sanders' attacks could hurt Democrats across the country in November, and ends with this plea:
You and I both know that the stakes for our country are just too high this November – with the Presidency, and control of the Senate and the Supreme Court hanging in the balance – for you to continue to spend your energy and resources on destructive attacks that stand to hurt all Democrats.
You can read the full open letter here.
[h/t Daily Caller]
[image via screengrab]
— —
Follow Josh Feldman on Twitter: @feldmaniac
Have a tip we should know? tips@mediaite.com
Josh Feldman - Senior Editor