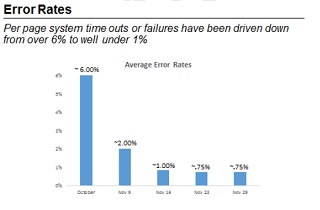 On Sunday morning, the first day after President Obama's promised deadline for Healthcare.gov to function moothly for the "vast majority" of users, Obamacare website czar Jeff Zeints briefed reporters on his team's final status an progress report, which shows vast improvements over the website's disastrous rollout. In addition to outlining the improvements, Zeints told reporters that traffic this weekend has been "unusually high," that the website has been working "smoothly" so far, and that the site can now handle "at least" 800,000 users per day. Hear the full conference call and read the full report below.
Among the revelations in the report are a reduction in system response times, from 8 seconds in October to less than a second this past week, a decrease in the error rate from 6% to .75%, and an increase in system up time from 42% to 95.1%. Server capacity has been doubled, and firewall capacity has been quintupled. The report also boasts of over 400 bug fixes and software improvements, although Zeints told reporters that there is still much work to do. "The bottom line," Zeints noted, "HealthCare.gov on Dec. 1st is night and day from where it was on Oct. 1st."
Zeintz said that his team had accomplished everything on their "punch list" that they had hoped to achieve by Friday night.
Also covered in the briefing were a direct enrollment pilot program involving 16 issuers across three states, of which CMS Director of Communications Julie Bataille said "We are encouraged by the feedback we are receiving from insurers," and that they hope to expand the program across the country. Bataille was also asked about two specific bugs dealing with enrollment verification and login password retrieval. "Those two issues were among the upgrades and fixes that were put into place over the weekend," she replied, adding that "it may take several days for consumers to see the results of these improvements."
She also told a reporter from Consumer Reports that users who want to complete the application process in one sitting should be sure to have their income verification and/or tax information handy.
Asked several times what his future, and the future of the website project, would be once he transitions out of the job, Zeints would only say that he is "head-down" and focused on the website, and praised the team for applying "private sector focus and speed."
Here's the full audio of the conference call, followed by the full progress report:
And here is the full "HealthCare.gov Progress and Performance Report":
HealthCare.gov Progress Report Final
Have a tip we should know? tips@mediaite.com