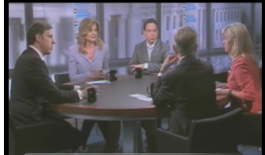 Since Jake Tapper officially took over as interim This Week host (ahead of Christiane Amanpour's arrival this August), ABC News' Chief White House correspondent has hauled the Sunday show straight into the 21st Century, with impressive results. This Week is now live-tweeted (a plus for those who prefer to spend their Sunday mornings at brunch instead of in front of the TV set), and clips and transcripts from the show are posted with lightning speed, sometimes even during airing (a big plus for those of us who blog about it). He's also brought on the non-partisan group PolitiFact to fact-check the claims made by various guests during the show — a move that was initially greeted with skepticism, but has since caught fire with the guests themselves. This decidedly New Media sensibility has breathed new life into the show, and one can only hope it remains after the anchor switch.
Perhaps equally striking is the noticeable change in roundtable guest choices. In the past month or so, Tapper's This Week has branched out beyond the usual Beltway suspects to include faces (and voices) one does not necessarily associate with staid Sunday morning TV: Bill Maher, Arianna Huffington, Liz Cheney (whose recent pairing resulted in some….good conversation) Glenn Greenwald, Markos Moulitsas, Greta Van Susteren, Joan Walsh, Tavis Smiley. The results have been impressive, extremely welcome, and often fiery.
Alas, Tapper only has a little over a month left in the This Week chair (the cynic in me says ABC has a bit less than two months before their Sunday morning ratings tank), so we figured now was as good a time as any to offer up our suggestions for future dream roundtable guests, before the opportunity disappears.
Glenn Beck: Beck has already made his Sunday morning debut (to the best of my knowledge) thanks to Tapper, in that Jake has played clips from Beck's show on a number of occasions. This is not something you normally see on Sunday mornings. I think we can all agree that Beck-as-panelist would be must-see TV, even more so if fellow panelists included, say, Bill Maher. Also, I think I would pay money to see George Will at the same table as Beck. Moreover, if he ever wants to be taken seriously by the MSM, Beck is going to have to play with the big boys at some point.

Sarah Palin: Tapper has already thought of this. A few weeks back he launched a Twitter campaign to get Palin on his show. Alas, it has thus far been unsuccessful, though she is clearly watching. Suggestion: Tapper needs to step up the onslaught.

Rachel Maddow: I know, she's on MSNBC (therefore probably off limits to ABC), but I don't think Meet the Press is making enough use of Maddow, who is really at her most impressive on the roundtables. Imagine a roundtable that included Liz Cheney and Maddow. Bam! That would set the blogosphere alight for days.

Dave Weigel: Weigel, who now pens a must-read blog covering the political right for WaPo, has been popping up more frequently on Countdown with Keith Olbermann, but it would be great to see him take his particular brand of coverage and get in there with the heavyweights.

Andrew Breitbart: It's all in the pairing. Brietbart on a roundtable with (as always) George Will, and say Gwen Ifill, would make for some interesting exchanges.

Rush Limbaugh: How great would this be? Along with Beck, it would be nice to see Limbaugh called to account, in a civilized discussion, for some of his more outrageous remarks. Maybe they could talk Maureen Dowd into doing it,too, and they could recreate a roundtable version of their famous steak dinner. Again, Gwen Ifill would be a nice fourth here.

Meghan McCain: I'm not sure if, intellectually speaking, McCain would be up to the task, but she has a knack for tapping into the political zeitgeist of the younger generation. On a panel focused on cultural issues, I think she'd be an interesting addition.

Jon Stewart: Crossfire never recovered from Stewart's appearance. I suspect This Week would fare much (much) better from a Stewart appearance, and it would be interesting to hear him discuss politics without the punchlines (or the montages).

Ta-Nehisi Coates: I happen to think the cable world should be making more use of Coates (or even some use), who writes a fantastic blog for The Atlantic. To my mind, he is an untapped resource when it comes to smart, nuanced thinking, for which there is ample space on Sunday mornings.

Ellen DeGeneres: A bit out in left field, but so was her hosting gig on American Idol. I think it would be interesting to see her get serious, and seriously entertaining.
Have a tip we should know? tips@mediaite.com