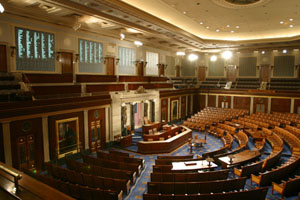 On The Washington Post's Wonkblog today, there is a post on the current Congress and whether it's the laziest ever. It's not yet conclusive, but here's another reason to add to the list: California Democrat Eric Swalwell is proposing a bill that would allow members of Congress to vote on legislation online, meaning they don't have to actually show up in order to cast their votes.
Swalwell argues that members of Congress don't have enough time to spend engaging with their constituents, and so being able to vote without having to travel to Washington D.C. would allow them to conduct all of their official business without actually having to be present in Congress.
The resolution would create a secure, remote voting system so members could vote on bills that are being considered under a suspension of regular rules, meaning they require a two-thirds majority in the House to pass. The process is usually reserved for bills that are noncontroversial.

Additionally, the resolution would allow lawmakers and witnesses to participate in committee hearings held in Washington via videoconferencing technology. Rather than jetting back to Washington to attend a committee hearing, a House member could join the hearing with a tap of a button right from his or her district office.
Swalwell is joined in this effort by two Republican congressmen, Wyoming's Cynthia Lummis and New Mexico's Steve Pearce. (Notice they're all from places really far from D.C.) Pearce argues that allowing lawmakers to tele-legislate would make members of Congress "more accountable to their constituents, rather than corporate lobbyists."
Not to mention they won't have to worry about cutting their vacations short anymore.
h/t FoxNews.com
—–
Follow Josh Feldman on Twitter: @feldmaniac
Have a tip we should know? tips@mediaite.com
Josh Feldman - Senior Editor