Dem Rep Declares He Will 'File That Beautiful Lawsuit' If Canadian-Born Cruz Wins Presidency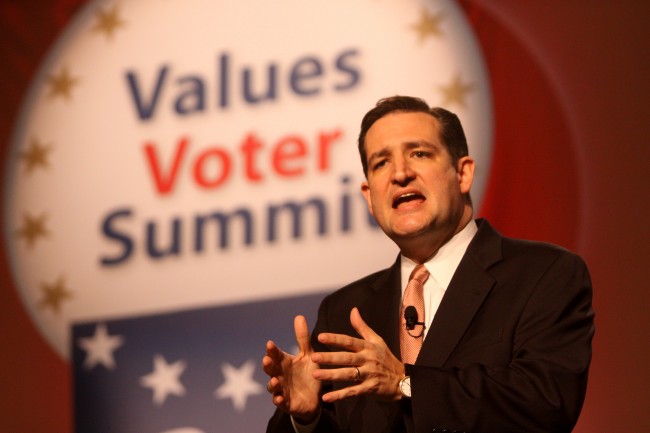 Florida Congressman Alan Grayson told radio host Alan Colmes Wednesday that if Ted Cruz is elected president, he "will file that beautiful lawsuit saying that he's unqualified for the job" according to the Constitution.
Cruz was born in Canada to a native-born American mother, making the presidential candidate a dual Canadian-American citizen. It was not until a 2013 Dallas Morning News article that Cruz acknowledged his Canadian citizenry publicly. In 2014, the senator renounced his Canadian citizenship altogether.
Lamenting the "appalling choices" Republicans have to choose among, Grayson told Colmes the Republican race "resolved itself into this weird reality show."
"It's not 'The Biggest Loser' that they're choosing, it's 'The Biggest Bigot,'" Grayson said challenging Colmes to show him one candidate "who represents the exception here." "In a sense, I guess, Cruz is not technically that way — because technically he's not even an America," Grayson added.
"His mother was born here, so I guess like [President Barack] Obama," Colmes replied adding, "it's interesting to me that the people who had a problem with Obama's birth certificate don't have a problem with Ted Cruz, who literally was born in another country and renounced his Canadian citizenry."
"The Constitution says natural born Americans," Grayson said. "So now we're counting Canadians as natural born Americans? How does that work?"
"I'm waiting for the moment that he gets the nomination and then I will file that beautiful lawsuit saying that he's unqualified for the job because he's in eligible," he continued. "Call me crazy but I think the President of America should be an American."
Watch the video above, via Fox News Radio.
[Image via Wikimedia Commons]
—
>> Follow Elizabeth Preza on Twitter (@lizacisms)
Have a tip we should know? tips@mediaite.com