Dem Senator Scolds GOP over Looming DHS Shutdown: 'We Need to Get Off Our Press Releases'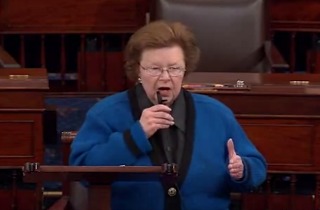 Less than nine hours remain before the Department of Homeland Security shuts down, unless Congress authorizes funding for the agency before midnight. Republicans want to include in the funding bill a measure that would essentially repeal President Barack Obama's executive orders on immigration reform. One Democratic senator made it clear that she has had enough of the partisan battles.
Sen. Barbara Mikulski (D-MD) opined on the Senate floor Friday morning that Congress has a "national responsibility" to fund the department through fiscal year 2015. Republicans proposed funding the agency for three weeks as a stopgap measure to buy some time.
"This fulfills a constitutional oath that we senators took to protect and defend the Constitution and the people of the United States of America against all foes, foreign and domestic," Mikulski said. "The domestic is here today. The domestic is in homeland security. The domestic is in what we need to do to fulfill our responsibility."
Speaking just before the Senate approved a clean DHS funding bill, Mikulski said members of Congress need to "get off of our press releases" and vote for it. She accused Republicans of having a "temper tantrum" over Obama's executive orders.
"And once again, we punted and delayed and parsed, ponded, and isssued press releases," she said. "That's what we got out of the House, somewhat out of the Senate."
Mikulski ultimately urged Republicans to not "punish" DHS employees because of their anger at Obama: "To delay this three more weeks is reckless and it is dangerous."
Watch the video below, via Roll Call:
[Image via screengrab]
— —
>>Follow Andrew Desiderio (@forza_desiderio) on Twitter
Have a tip we should know? tips@mediaite.com