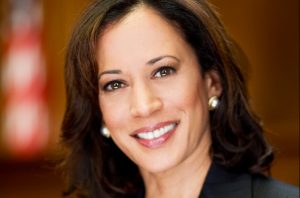 The election of President Donald Trump threw the Democratic party into chaos, as it struggled to — and continues to struggle — to find clear front-runners for 2020, and present a message beyond merely resisting Trump. But the same Democratic donors and leaders who got behind former Democratic nominee Hillary Clinton and former President Obama at a fundraising event earlier this week expressed optimism in freshman California Sen. Kamala Harris.
The Hill reports:
The Bridgehampton event, where Harris mingled with top donors and supporters of Hillary Clinton, was the ultimate signal that Harris is "thinking much bigger" than the Senate, one top bundler said.

"She's running for president. Take it to the bank," another fundraiser said. "She's absolutely going to run."
Harris has certainly emerged as a fresh, relatable face with powerful charisma. Her sharp lines of questioning at senate hearings and impassioned rallies to protect health care have attracted wide attention on social media, and according to Ben LaBolt, a Democratic strategist and former spokesman for former President Obama, she's achieved what few senators are able to do as freshmen.
"Kamala has come to embody what's next for our party," LaBolt said. "She comes to Congress with immense credentials — a law enforcement official with a smart approach to taking on bad actors and protecting consumers. And she's already broken through as bringing a unique voice in the Senate that is both substantive and relatable — which is hard to do your freshman year."
Harris certainly brings a few unique attributes to the table — her record in addressing crime as California's former attorney general has bipartisan appeal, while her passionate advocacy for criminal justice reform, expanding access to health care, and support for women's, civil and LGBT rights, appeal to progressives. It certainly doesn't hurt that the senator has excellent taste in music, or that, according to the same Hill report, Harris is an impressive fundraiser, too.
The only thing Harris seems to be missing is experience in foreign policy but, again, she's only a freshman and there's time to amend this. As President Obama's electoral success proved, it would be a mistake to count out people like Harris.
A woman of color with a background as balanced and extensive as Harris's would restore much needed representation and progress to the White House following four years of Trump. And as of this week, it looks like winning support from big Democratic donors and leaders — an absolute must to secure the party nomination — won't be a problem, should Harris decide to run.
Have a tip we should know? tips@mediaite.com