Democrats Kaptur, Kucinich Facing Off In Contentious Ohio Primary On Tuesday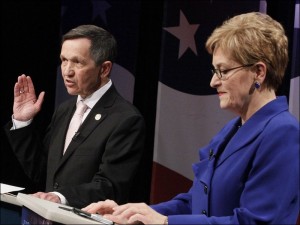 Two popular Ohio Democrats who each have fairly liberal reputations are squaring off on Tuesday in a primary to determine which of them will move on to fight for another term in Congress. Due to redistricting, 14-term incumbent Marcy Kaptur is facing a challenge in her district's primary from fellow incumbent Dennis Kucinich. Both are members of the Congressional Progressive Caucus, but the fight to win the race has been fierce and incredibly heated between the two liberals.
RELATED: Rep. Dennis Kucinich: A Primary Challenge 'Would Make [Obama] A Better President'
Kaptur has gone after Kucinich for voting against millions of dollars in new manufacturing jobs and opposed billions of dollars in aid to U.S. veterans, both claims getting a "Half True" rating from Politifact. Meanwhile, Kucinich has been going after Kaptur for "vot[ing] to waste half a trillion on Bush's wars" and alleging that she "took hundreds of thousands from war contractors and voted for billions more than even the Republicans wanted for military spending."
Some liberal groups have refused to issue any official endorsements in the race, having supported both vehemently in the past. Both Democrats have Super PACs supporting them. The Campaign for Primary Accountability, supporting Kucinich in the race, says its goal is to level the playing field because "incumbents usually have a 'message monopoly' and can raise more money (Both Kaptur and Kucinich are technically incumbents, though Kaptur has been serving in Congress for over a decade longer than Kucinich.) Meanwhile, the Super PAC Ohioans for Opportunity, started only last month by an aide to former governor Ted Strickland, is backing Kaptur.
Kaptur has used the Campaign for Primary Accountability's support of Gingrich to go after Kucinich, claiming that the Super PAC is "run by 'rich, anti-union ultra conservative Texas oil men" connected to Rick Perry who want Kucinich to win because Kaptur is a more effective voice for the Democrats.
The environmental group Friends of the Earth Action endorsed Kucinich, while the International Brotherhood of Electrical Workers' PAC has given $10,000 to Kaptur's campaign. Kaptur has raised over 200 thousand dollars from Super PACs, getting more support from that sector than individual contributors, while only four percent of contributions to Kucinich's campaign have been from PACs. However, some voters still have concerns with Kucinich's priorities.
Democrats in the 9th district were "turned off" by his "quixotic" runs for president, [political science professor Joel] Lieske said. "They felt he should really be representing the district and not making these foolish runs for the presidency."
RELATED: No Olive Lost: Dennis Kucinich Is Suing House Cafeteria For Oral Distress
Of course, what's a contentious race without celebrity endorsements? According to a Fox affiliate in Toledo, Kaptur has the backing of big-name actor Tom Hanks, while Kucinich is being supported by hip hop mogul Russell Simmons.
Of course, the Republicans are having their primary on Tuesday as well, and one of the two candidates in that race is none other than Samuel Wurzelbacher, a.k.a. Joe the Plumber.
Have a tip we should know? tips@mediaite.com
Josh Feldman - Senior Editor