New Book Details How Kennedys Hired P.I. To Look Into Nixon's Mental Health Sessions Before 1960 Election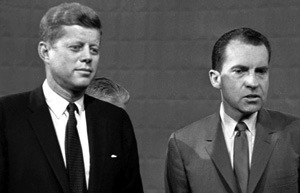 In a hallmark to the dirty politics of old, a new book coming out this month gives a whole new insight into the 1960 presidential election between Richard Nixon and John F. Kennedy. The book, The Gumshoe and the Shrink, details how Nixon frequently saw a psychotherapist for treatment and how the Kennedy family almost made the details known to the public just days before the extremely close election.
The New York Post printed a preview of the book's details, and how it combines every little thing you've ever come to associate with Nixon and the Kennedy family.
Nixon's team infiltrated the offices of two of Kennedy's doctors in June 1960 and rummaged through them, looking to support rumors that the young candidate was, in fact, gravely ill.

Once Kennedy and his campaign were alerted, they went into full-on attack mode, with Kennedy's father, Joe, tasking none other than Frank Sinatra to hire the best private eye he could find.
Yes, Sinatra. The famous crooner recommended a private eye who previously worked for J. Edgar Hoover, and he claimed to uncover a file Dr. Arnold Hutschnecker kept on his high-profile patient. Hutschnecker, who died towards the very end of 2000, kept a working relationship with Nixon over his long political career, even after Nixon finally won the presidency in 1968.
Leading up to the 1960 election, the book claims, the Nixon camp leaked details of JFK's Addison's disease to the press, and Joe Kennedy wanted his son to fire back on Nixon, but JFK decided against it. However, a review of the book on Publishers Weekly says that author David Robb shows how the gumshoe's discovery of Nixon's health issues "enabled Kennedy to pull ahead and win the presidency that would lead to his untimely death."
Have a tip we should know? tips@mediaite.com
Josh Feldman - Senior Editor