Democrats Lash Out At Obama For Endorsing GOP Position On Entitlement Reform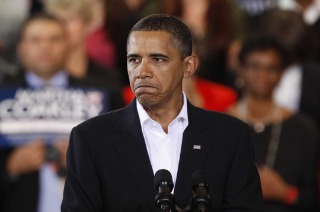 According to a report in POLITICO on Tuesday, President Barack Obama's proposed budget is causing more headaches for his fellow Democrats than Congressional Republicans. A number of named and unnamed Democrats told the Beltway publication that the president's budget proposal cedes rhetorical ground to Republicans on entitlement reform and undercuts the Democratic position opposing dramatic cuts to programs like Medicare and Social Security.

RELATED: Jon Stewart Trashes Paul Ryan For Entitlement Hypocrisy, 'Makers Vs. Takers'
While it remains unclear how the issue of entitlement and budget reform will resonate in 2014, compared to more controversial issues like immigration and gun control, many Democrats are frustrated that President Obama expressed his support for some changes to entitlement programs.
"I think it does make it more difficult for Democrats in the next election," Rep. Rick Nolan (D-MN) recently said. "I would think that Republicans will say this cycle that if you want your Medicare and Social Security cut, that's what Obama wants to do. … And I imagine that's what Republicans will campaign on."
"It is highly problematic," said a Democratic pollster on condition of anonymity. "There is no question the entitlement debate makes for an easy campaign ad."
A representative with the American Federation of State, County and Municipal Employees union said that Obama's concessions on the issue of entitlements is likely to reduce Democratic turnout in coming election cycles. "[F]rom our point of view, the use of chained CPI is not only bad policy, its bad politics," said Director of Federal Government Affairs Chuck Loveless. "It would suppress Democratic turnout."
Read the report via POLITICO
> >Follow Noah Rothman (@NoahCRothman) on Twitter
Have a tip we should know? [email protected]