Democrats Scramble to Find 2014 Campaign Theme, Settle on All of the Above
Rothman: Dems Scramble to Find 2014 Theme, Settle on All of the Above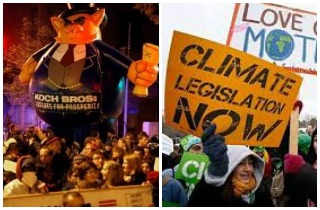 On Monday night, 30 Democratic U.S. Senators pulled an "all-nighter" in an effort to draw attention to the issue of climate change. Led by Senators from deep blue states like Hawaii, California, and Rhode Island, Democrats engaged in precisely the kind of "faux filibuster" that they criticized Sen. Ted Cruz (R-TX) for in September. Some members even played precisely the same role that resulted in so much self-satisfied mockery of Cruz by Democrats and their media allies. "But now says the Once-ler, now that you're here, the word of the Lorax seems perfectly clear," said Sen. Ed Markey (D-MA) after reading from Dr. Seuss' The Lorax on the floor of the Seante. "Unless someone like you cares a whole awful lot, nothing is going to get better."
Notably absent from Monday night's "talk-a-thon" were the Senate's most vulnerable Democratic members, including Sens. Mark Begich (D-AK), Mark Pryor (D-AR), Kay Hagan (D-NC), and even the Chair of the Senate Energy and Natural Resources Committee, Mary Landrieu (D-LA). Democrats who devoted a night's sleep to the cause of rallying the Democratic base seemed dispirited on Tuesday morning.
"If you were looking for reassurance that somebody took this seriously in Washington, you weren't finding much," Sen. Sheldon Whitehouse (D-RI) told CNN, making a veiled reference to President Barack Obama's aborted pledge to make addressing climate change a focal point of his second term.
But Senate Democrats weren't the only political actors devoting their night to the causes Democrats have determined may gin up a marginal amount of enthusiasm for liberal candidates in the fall. Grassroots liberals took to the sidewalks outside of New York-Presbyterian Hospital on Monday evening to protest that health care provider. Why? The hospital is funded in part by a $100 million donation made by one of the Koch brothers.
Members of the New York State Nurses' Association, the NAACP New York State Conference, and SEIU Local 1199, among others, took to the streets to protest the construction of a new wing of that hospital funded by a man the U.S. Senate Majority Leader recently called "un-American" on the floor of the upper chamber of Congress. These core Democratic constituencies are merely responding to calls from Democrats to draw attention to the private financial activity of the brothers whose crimes have been to include among their philanthropic donations to the arts and sciences libertarian-leaning causes and candidates.
The assault on the Kochs' integrity is an offshoot of another Democratic campaign, one that has lost some steam in recent weeks — the president's halted push to raise awareness about the fact that Americans have disparate incomes and varying personal financial situations. Calling out the plague of "income inequality," Democrats devoted much of late 2013 and early 2014 to rallying their base voters to get incensed over the lapse of long-term unemployment insurance or the meager federal minimum wage.
For the time being, Democrats' answer to the Affordable Care Act ahead of 2014 appears to be inequality and the weather; two conditions which have vexed humanity since the dawn of time and are likely to persist regardless of how Americans cast their votes in November.
The Democratic Party's flailing and unfocused effort to find an issue that could have the potential to mobilize their base in the same way that the implementation of the ACA has energized base Republicans and independent voters is increasingly transparent. That the midterm elections are still 9 months away has not tempered the urgency with which Democrats have scrambled to find issues that might mitigate the apparently imminent damage to their majority.
"Democrats' chances of holding onto their majority in the Senate is looking increasingly tenuous," political handicapper Charlie Cook wrote in National Journal last week. "All the modelers seem to agree that the Democrats' Senate majority is in real trouble, and that they may even be underdogs in their quest to keep it," Real Clear Politics analyst Sean Trende noted on Tuesday. "In the 34 states with Senate races, 50 percent of voters say they favor Republicans and 42 percent favor Democrats," a Washington Post/ABC News poll recently revealed.
In truth, only some of voters' anti-Democratic energy is due to the ACA. The health care reform law only augments the fundamental dynamic which will shape this year's election results: predictable dissatisfaction with a president entering his sixth year in office.
But fundamentals be damned. Democrats have little choice but to rend garments over this or the other urgent issue as Election Day nears. Baring a Republican implosion or an international crisis which resurrects Obama's ailing job approval rating, all the hand-wringing in the world over peripheral issues will not rescue Democrats' 2014 prospects.
[Photo via The Daily Caller/AP]
— —
> >Follow Noah Rothman (@NoahCRothman) on Twitter
Have a tip we should know? tips@mediaite.com