Dem Senate Comm. Blasts Nate Silver for Predicting GOP 'Slight Favorite' to Win Senate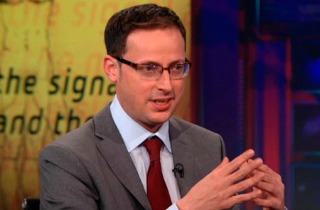 FiveThirtyEight analyst Nate Silver won copious Democratic praise in 2012 after he predicted that President Barack Obama would win reelection. He never wavered from that prediction, in spite of some bumps for the president along the campaign trail, and Silver was vindicated when it turned out that he had correctly predicted the election results in 49 of 50 states. Times have changed, however, as Silver is on the receiving end of Democratic ire this year.
Over the weekend, Silver said that the GOP has a 60 percent chance of retaking the upper chamber of Congress based on early polling results. In response, Democratic Senatorial Campaign Committee political director Guy Cecil released a 1,000-word memo remarking on how Silver was actually wrong in 2012 and he will be wrong again in 2014.
"In fact, in August of 2012 Silver forecasted a 61 percent likelihood that Republicans would pick up enough seats to claim the majority," Cecil wrote. "Three months later Democrats went on to win 55 seats."
RELATED: Nate Silver to ABC: GOP Has 60% Shot at Retaking Senate
Cecil noted that Silver's analyses failed to account for candidate quality. In 2012, some Democratic Senate candidates outperformed their state, like Sens. Heidi Heitkamp (D-ND) and Jon Tester (D-MT). He observed that this is a consistent failure on Silver's part, observing that the forecaster also did not account for the 2010 victories of Sens. Michael Bennet (D-CO) and Harry Reid (D-NV).
"Only three Democratic incumbent senators have lost reelection in the last ten years, and our incumbents are once again prepared and ready," the memo continued.
Silver's latest analysis is not inconsistent with other political handicappers. Both the Cook Political Report and the Rothenberg Political Report have acknowledged that Democrats' chances of maintaining their Senate majority became harder in recent weeks as the president's job approval rating has slumped and the Affordable Care Act acts as a drag on the Democratic political brand.
[h/t National Journal]
[Photo via screen grab]
— —
> >Follow Noah Rothman (@NoahCRothman) on Twitter
Have a tip we should know? tips@mediaite.com