Despite End of Racism, Three Teens Arrested Waiting for Bus While Openly Black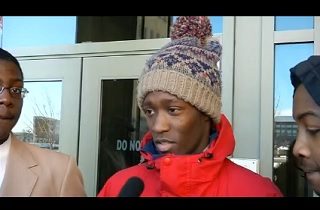 Despite the GOP's (later clarified) announcement this weekend that racism had ended, three student basketball players in Rochester, New York seem to have missed the memo. Not only did Rosa Parks not end racism, but now you can't even get on the bus without being arrested. On Wednesday, three Edison Tech High School students were arrested when police ordered them to "disperse," even though they say they explained that they were waiting for a school bus to take them to a basketball scrimmage. In an encouraging sign for the end of racism, though, their coach was not arrested when he arrived to intercede.
The three teens, 16 year-olds Raliek Redd and Deaquon Carelock, and 17 year-old Wan'Tauhjs Weathers, were in the process of being arrested for disorderly conduct when their coach, Jacob Scott, arrived to explain things to police:
Their coach, Jacob Scott, who is also a district guidance counselor, arrived at the location as the three students were placed in handcuffs. Scott said he pleaded with the officer to let the boys go, saying he was supervising them.

"He goes on to say, 'If you don't disperse, you're going to get booked as well,'" Scott said. "I said, 'Sir, I'm the adult. I'm their varsity basketball coach. How can you book me? What am I doing wrong? Matter of fact, what are these guys doing wrong?'"

Scott said a sergeant showed up and backed up his officer.

"One of the police officers actually told me, if he had a big enough caravan, he would take all of us downtown," Scott said.

Scott said the incident was traumatic for the players who got arrested and the players who witnessed the arrests and such treatment of their coach.

"It's a catastrophe. These young men were doing nothing wrong, nothing wrong. They did exactly what they were supposed to do and still they get arrested," said Scott. "I'm speaking to the officers with dignity…and still and yet – they see me get treated like nothing."
Of course, there are two sides to every story, but if the pretextual "disorderly conduct" charge isn't a tip-off, then the weak-sauce police report ought to be:
The police report says the students were obstructing "pedestrian traffic while standing on a public sidewalk…preventing free passage of citizens walking by and attempting to enter and exit a store…Your complainant gave several lawful clear and concise orders for the group to disperse and leave the area without complaince."

The report does not accuse the boys of using abusive or obscene language.
The teens' parents had to post $200 bail to get their kids out of jail for Thanksgiving. Their trial date is December 11.
Stories like these are common, but unless the police slip up and mess with someone in an ironclad position of respectability, you never really hear about them. If there's video, well, you have to watch the whole thing. This is, however, the first time I've ever heard of someone being arrested for refusing to leave an area that they were only in for the express purpose of leaving it. It's like telling a guy to buy something or get out when he's at the end of the checkout line.
In the almost two years since the killing of Trayvon Martin, it has become socially acceptable to openly view black teenagers as a de facto threat, and while incidents like these have always been a fact of life for black people, the movement toward normalizing them is a step back from the progress we think we've made.
Here's WHEC Rochester's report on the arrest, including interviews with the three teens:
(h/t Gawker)
[photo via screengrab]
Have a tip we should know? tips@mediaite.com