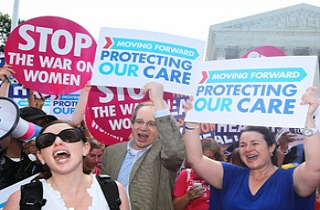 A recent Gallup survey revealed that familiarity with the Affordable Care Act has recently spiked, with the majority of Americans – including virtually all subgroups and demographics – expressing some familiarity with the law. The problem for ACA supporters, however, is that opposition to the sweeping 2010 health care reform law has also increased dramatically.

According to the results of a November 23-24, 2013 survey of 1,034 adults, 72 percent of all adults are "familiar" or "somewhat familiar" with the ACA. Only 28 percent of adults are "not too familiar" or "not familiar at all" with the law.
Among the groups who are most familiar with the law are Republicans, 88 percent of whom described themselves as familiar with the ACA, and those making more than $90,000 per year, of which group 90 percent identified themselves as being familiar with the law.
Least familiar with the ACA are young people aged 18-29, of which only 63 percent said they are familiar with the ACA, and Democrats, of which group only 65 percent said they were familiar with the law's aims and effects.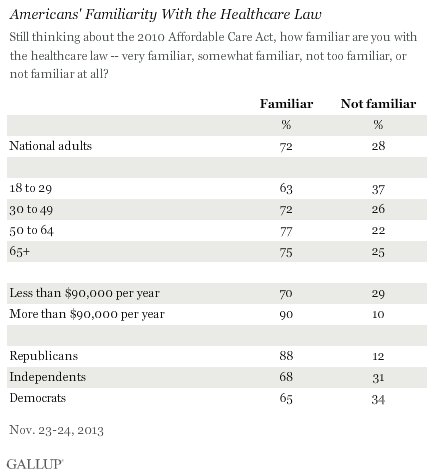 While support for the law has spiked, so has opposition to it. A Gallup survey in November showed that American adults' opinion on the law was relatively stable for the past year prior to implementation. Following implementation, however, the public's disapproval of the ACA spiked to 55 percent while just 40 percent expressed approval with the law.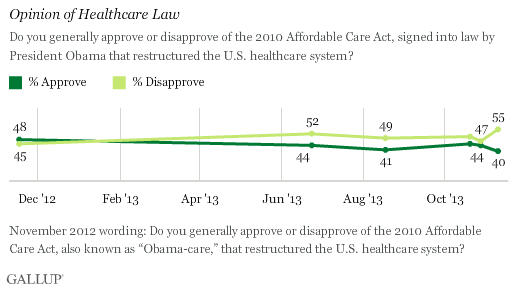 After another two weeks, that approval rating remains stable. 54 percent of adults disapprove of the health care reform law while 40 percent approve. Perhaps intuitively, those least familiar with the law were most likely to tell pollsters they support it.
43 percent of those unfamiliar with the ACA told Gallup pollsters they disapprove of the ACA while 41 percent said they approve. Of those familiar with the law, 59 percent said they disapprove of it while only 40 percent said they approve.
[Photo via AP]
— —
> >Follow Noah Rothman (@NoahCRothman) on Twitter
Have a tip we should know? tips@mediaite.com