Dick Armey Literally Mounted Armed Coup At Tea Party Group Prior To His Ouster, According To Report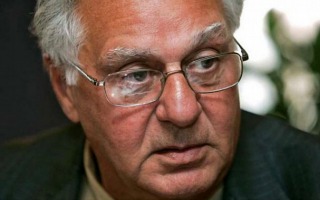 Dick Armey, former chief of the Washington D.C.-based tea party group, FreedomWorks, was recently removed from this perch at the helm of that organization, but not without a fight. At least, according the details of his ouster in the Washington Post, Armey mounted a failed coup in his final days with FreedomWorks. The incident may have accelerated the organization's descent into chaos.

RELATED: Rachel Maddow Decries Financial 'Scams' At Conservative Groups
It was just after Labor Day, writes Amy Gardner in the Post, when Armey stormed the offices of FreedomWorks with a conspicuously armed aide in an attempt to seize control of the organization.
Richard K. Armey, the group's chairman and a former House majority leader, walked into the group's Capitol Hill offices with his wife, Susan, and an aide holstering a handgun at his waist. The aim was to seize control of the group and expel Armey's enemies: The gun-wielding assistant escorted FreedomWorks' top two employees off the premises, while Armey suspended several others who broke down in sobs at the news.
"The coup lasted all of six days," Gardner reports. "By Sept. 10, Armey was gone — with a promise of $8 million — and the five ousted employees were back."
Armey's departure from the group was accelerated by a wealthy donor and founder of the Cancer Treatment Centers of America who personally pledged $400,000 per year for 20 years in exchange for Armey's agreement to leave FreedomWorks.
"The episode illustrates the growing role of wealthy donors in swaying the direction of FreedomWorks and other political groups, which increasingly rely on unlimited contributions from corporations and financiers for their financial livelihood," Gardner notes.
Read the full report in the Washington Post
> >Follow Noah Rothman (@Noah_C_Rothman) on Twitter
Have a tip we should know? tips@mediaite.com