Did NYC Police Chief Bill Bratton Step Down to Challenge Bill de Blasio for Mayor?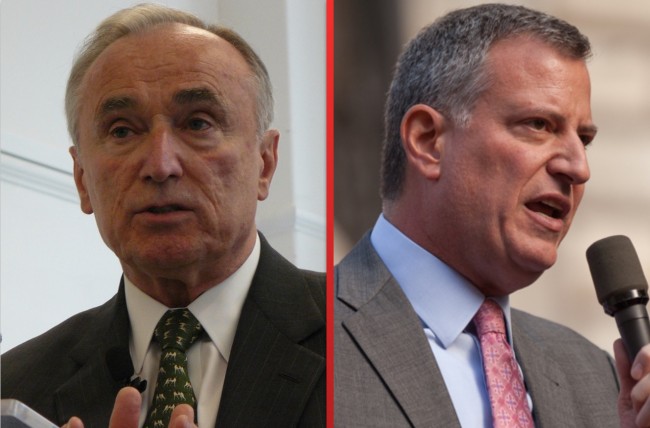 Unexpectedly, New York City police chief Bill Bratton today announced that he was stepping down from his role as Commissioner despite a landscape here in Gotham that is, by all accounts, a good one. As the Village Voice put it in June, "Crime is low, people actually want to ride the subway, and he's got the mayor of New York City wrapped around his finger."
The Chief himself is a significantly popular figure during a time when the conversation surrounding race and law enforcement has been heavily dampened around the country. Arguably, the string of police-targeted violence was prominently propelled into the national conversation following the December, 2014 shooting deaths of Detectives Rafael Ramos and Wenjian Liu in Bed-Stuy. The murders shook the city to its core, and were largely viewed as retaliatory measures for the death of Eric Garner in Staten Island at the hands of NYPD.
You can point to the aftermath of the tragedy of the Ramos and Liu murders as the start of what has become an icy dynamic between Bratton and city mayor Bill de Blasio, a Democrat who has long argued for the rights of protestors such as Black Lives Matter. At the funeral days later for Detective Liu, scores of NYPD officers turned their backs on de Blasio in a blatant sign of disrespect as the mayor addressed the killings. NPR reported at the time:
The shootings laid bare a rift between the mayor and the NYPD. Shortly after last Saturday's attack, the Patrolmen's Benevolent Association's president, Pat Lynch, accused the mayor of having "blood on his hands" for what is perceived as a lack of support for the department amid protests against police violence.
While Chief Bratton sent a memo to officers urging respect, it began a steep slope of differences between the two men that were hardly visible during today's press conference in Manhattan. De Blasio took to the microphone to praise his outgoing police chief; Bratton was equally appreciative in response. Reports are indicating that Bratton will be pursuing an opportunity in the private sector beginning in September ("I'm leaving with reluctance," Chief Bratton said today. "I received an offer that for me and my wife is extraordinarily exciting").
However, it is difficult not to wonder if Bratton is teeing himself up for a Mayoral run against a reelection candidate who has seen his own popularity slide disastrously this year.
According to a Quinnipiac University poll out yesterday, de Blasio is facing a near record low approval rating from New Yorkers; the current 42% is just about the lowest since he took office two-and-a-half years ago. Perhaps most frightening for the Democrat, 51% of New Yorkers disapprove of the mayor's performance overall, while a stunning 50% say he doesn't deserve a second term at all.
In Staten Island alone, de Blasio's approval rating is a dismal 19%, down from 27% in May.
How did things get so bad for the man who trounced his Republican opponent in the 2013 Mayoral race with nearly 75% of the popular vote?
First, the shooting deaths of officers Ramos and Liu set off a firestorm of — however fair or unfair — a debate that largely pinned the African American community against New York's finest. In the minds of many, if de Blasio chose a side in this war early and often, Bratton was firmly planted on the other. "It's quite apparent, quite obvious, that the targeting of these two police officers was a direct spin-off of this issue of these demonstrations," Bratton said at the time.
The comment came just weeks after de Blasio — the progressive father to biracial children and the husband of a black wife — admitted, "What parents have done for decades who have children of color, especially young men of color, is train them to be very careful when they have… an encounter with a police officer." He continued:
With Dante, very early on, we said, 'Look, if a police officer stops you, do everything he tells you to do. Don't move suddenly. Don't reach for your cellphone.' Because we knew, sadly, there's a greater chance it might be misinterpreted if it was a young man of color.
The Mayor was slammed immediately and hard by law enforcement officials, who viewed his statements as disqualifying to his role. "He has a security detail of New York City police officers assigned to protect his family. And yet he's making statements that his son shouldn't feel safe with New York City cops," said the head of the Sergeants Benevolent Association. "Ultimately, if this individual who's in charge of running this city doesn't have faith in his own son being protected by the NYPD, he may want to think about moving out of New York City completely. He just doesn't belong here."
Then, more disaster for Bill de Blasio, now in the form of reports that he was under investigation from the Manhattan District Attorney, the U.S. Attorney's Office and the NYC Department of Investigation. Under the microscope were allegations that top campaign donors to his election effort received illegal favors. A poll in May revealed that the slew of bad headlines left 55% New Yorkers with the impression that while de Blasio may not have acted illegally, his actions were certainly "unethical," agreeing with the statement that he, "does favors for developers who make political contributions to campaigns."
Another 28% viewed de Blasio's actions as outright illegal. "With a virtual wildfire of news stories about corruption investigations, voters think Mayor Bill de Blasio has favored well-connected real estate people," revealed one pollster.
Oh, and remember when he stood on stage with Hillary Clinton and Hamilton's Leslie Odom Jr. and made a crack about "colored people time"? How do you think that went over with his already severely-declining poll numbers?
Just as sharply as de Blasio's approval rating slipped here in New York, it seems as if the crime rate — directly viewed as a police chief's handiwork — fell right alongside it. In the first quarter of 2016, the Big Apple saw a 21% drop in murders compared to 2015, and a 14% decrease in shootings. "I remember vividly what things were like in this city when we had over 2,000 murders a year, when even walking down a busy street you had to look over your shoulder," said de Blasio at the time. "I remember how life was, how many people left because they thought this city couldn't possibly succeed. Well, the NYPD turned that around."
Bratton became a champion of "precision policing," cracking down on stop-and-frisk procedures. He earned a "respectable" 52% approval rating in May, scoring slightly under his predecessor Ray Kelly, a phenomenon that some have been likely to chalk up to nostalgia rather than a factual representation of the work done.
To further fuel the speculation that Bratton could be considering a Mayoral run of his own in New York City after today's news, last month he admitted that if de Blasio were reelected in 2017, he would not stick around to see it.
As mistrust continues between law enforcement and minority communities, it would seem that Bratton is the one who has earned the upper hand of sorts in the dynamic with de Blasio; the New York tabloids are already no stranger to "Bratton v. de Blasio" headlines. And although we are still fifteen months away from the November 2017 Mayoral election, the list of likely challengers has long been mounting in the wake of de Blasio's slip ups. Bronx Borough President Ruben Diaz Jr. has been long rumored to take on de Blasio next year, and his close links to state Governor Andrew Cuomo — a critic of incumbent mayor — adds fuel to the speculation. New York Congressman Hakeem Jeffries is also in the discussion, as is Don Peebles, a self-funding real estate titan who could harken back to a pre-de Blasio Bloomberg era of stability.
And now, there's Bill Bratton, the Boston-born Red Sox diehard who has ironically served the people of New York admirably over two tenures as police chief. He admitted today that he and his wife have no plans to leave Gotham — he called New York City "his adopted home" during his press conference Tuesday — and noted simply, "I will have a relationship with this mayor going forward." But I suspect I will not be the last to speculate about the political ambitions of a police chief who will be remembered as the champion of New York's finest in the face of Bill de Blasio — the man who couldn't help but be pegged as the anti-blue Mayor, who will be fighting for his political life to stave off strong challengers to his own reelection effort.
—
J.D. Durkin (@jiveDurkey) is an editorial producer and columnist at Mediaite.
[images via Wikipedia Commons]
This is an opinion piece. The views expressed in this article are those of just the author.