Did The Daily News Touch Up A Boston Marathon Bombing Photo To Make It Less Gory?
New York's Daily News is facing criticism today after the paper ran a photo spread on its front page cover wrap yesterday that appears to have been doctored to make a victim's injuries look less severe than they were. Blogger Charles Apple publicized the discrepancy, by showing the original photo, taken by the Boston Globe's John Tlumacki next to the version that appeared on the Daily News cover.

Apple zoomed in on the upper left section of the two photos to illustrate how the Daily News apparently touched up the leg of the victim to hide the gruesome injury visible in the original.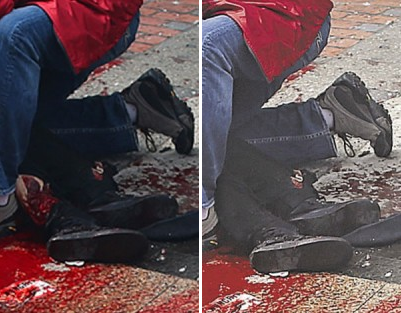 Capital New York's Joe Pompeo was able to get a statement from Daily News spokesperson Ken Frydman, who defended the decision to alter the photo in question and went so far as to chide the rest of media for not making similar moves.
"The Daily News edited that photo out of sensitivity to the victims, the families and the survivors. There were far more gory photos that the paper chose not to run, and frankly I think the rest of the media should have been as sensitive as the Daily News."
Typically, if a news organization is going to withhold or alter imagery out of "sensitivity" to either viewers or subjects they would blur the image or otherwise obscure it in an obvious way. This is what CNN did yesterday when they showed images that purported to show a bag that contained one of the explosive devices and the same angle the moment after the explosion. By digitally altering such a prominently-used photo in such a surreptitious way, the Daily News may have technically misled its readers.
—
>> Follow Matt Wilstein (@TheMattWilstein) on Twitter
Have a tip we should know? tips@mediaite.com