'Disgraceful': Canadian PM Slammed on Twitter For Offering Tribute to Fidel Castro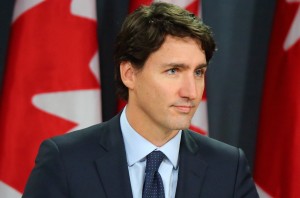 Canadian Prime Minister Justin Trudeau is getting a lot of online heat over his response to the death of former Cuban leader, Fidel Castro.
Trudeau was among the many world leaders who released statements today to acknowledge Castro's passing. However, Trudeau's statement seemed oddly complimentary compared to others.
"While a controversial figure, both Mr. Castro's supporters and detractors recognized his tremendous dedication and love for the Cuban people who had a deep and lasting affection for "el Comandante".

"I know my father was very proud to call him a friend and I had the opportunity to meet Fidel when my father passed away. It was also a real honour to meet his three sons and his brother President Raúl Castro during my recent visit to Cuba.

"On behalf of all Canadians, Sophie and I offer our deepest condolences to the family, friends and many, many supporters of Mr. Castro. We join the people of Cuba today in mourning the loss of this remarkable leader."
After it was released, Trudeau's statement took on criticism for not doing enough to condemn Castro's human rights abuses and dictatorial rule. The subject became a source of online conversation, and people did not hold back in expressing their opinions:
Is this a real statement or a parody? Because if this is a real statement from the PM of Canada it is shameful & embarrassing. https://t.co/lFXeqU7Ws0

— Marco Rubio (@marcorubio) November 26, 2016
I just got around to reading PM Trudeau's statement, and I'm suddenly a lot less embarrassed about my country electing Trump.

— David Freddoso (@freddoso) November 26, 2016
Disgraceful statement from Justin Trudeau re Castro. No, Justin, Fidel didn't "serve" Cuban people. He made them serve him. For 60 years. https://t.co/E413zutMwS

— Bret Stephens (@StephensWSJ) November 26, 2016
No @JustinTrudeau, Castro was not a 'legendary revolutionary', he impoverished millions while he lived in luxury

— Lisa Raitt (@lraitt) November 26, 2016
Disgraceful. Why do young socialists idolize totalitarian tyrants? Castro, Stalin, Mao, Pol Pot — all evil, torturing murderers. #truth https://t.co/mYJonVK7JB

— Ted Cruz (@tedcruz) November 26, 2016
Trump's statement on Castro is better than Justin Trudeau's statement tbh. https://t.co/Xgum8RyNp5

— Josh Barro (@jbarro) November 26, 2016
To be Canadian right now. #trudeaueulogies pic.twitter.com/16QiNWB7fS

— Sheila Gunn Reid (@SheilaGunnReid) November 27, 2016
These slams eventually took the shape of #TrudeauEulogies, where Twitter users imagined Trudeau excusing the egregious behavior of various historical figures and characters:
Nero soaked Christians in oil and set them ablaze. But he also limited the need for lights and kept the religious warm. #TrudeauEulogies

— Charles C. W. Cooke (@charlescwcooke) November 26, 2016
We mourn the loss of Judas Iscariot. Remember his ambition & business acumen. Nothing got in his way. Not even friends. #TrudeauEulogies

— clakklaa (@clakklaa) November 26, 2016
Henry VIII: An idealist and a dreamer, no disappointment could deter him from his determined quest for love. #Trudeaueulogies

— Walter Russell Mead (@wrmead) November 26, 2016
While a controversial figure, O.J. Simpson taught us the importance of wearing gloves and leaving no witnesses. #trudeaueulogies

— Ashley (@luvofUSA) November 26, 2016
#TrudeauEulogies Today we mourn Caligula's tragically short life; while quirky, he was a champion of horse rights and greater sexual freedom

— Adam Creighton (@Adam_Creighton) November 27, 2016
"Today we mourn painter and animal rights activist, Adolf Hitler. His death also highlights the need for suicide awareness"#TrudeauEulogies

— Curtis (@FowlCanuck) November 26, 2016
[Image via shutterstock]
— —
>> Follow Ken Meyer (@KenMeyer91) on Twitter
Have a tip we should know? tips@mediaite.com