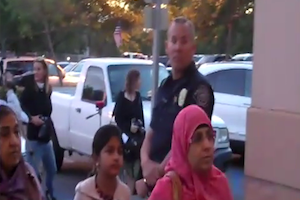 The other day when Bill O'Reilly was airing videos of some of the worst behavior by union protesters, he claimed that the "liberal media" would have gone crazy if they had gotten their hands on any footage of Tea Partiers acting similarly. Well, we may now be able to test that theory. A new video that has been shooting around the Internet the past day or so shows hundreds of protesters screaming "Go back home!" and "Muhammed was a pervert!" at Muslim families as they attempt to enter a California community center for a February 13th fundraiser hosted by the group Islamic Circle of North America Relief USA. The video, uploaded by ICNA and CAIR, links a local Tea Party group and anti-Islamic blogger Pamela Gellar as some of the protest's sponsors.
The protesters were at a rally across the street that was there to counter the fundraiser, particularly participation of two speakers; Siraj Wahhaj and Abdel Malik Ali. Warhaj has been accused by a US attorney of being involved in the 1993 World Trade Center bombing, something he denies and was never charged with. Malik Ali has been quoted in the past as saying he supports Hezbollah.
The Blaze points out that participants in the counter rally, including Rep. Ed Royce, have said it was "regrettable" that some protesters broke away and moved towards the community center itself where this video was filmed. However, some video of the rally itself has caused controversy as well, including a clip of Councilwoman Deborah Pauly saying she knows marines like her son who would be "willing to help these terrorists to an early meeting in paradise."
Salon has interviewed one of the Muslim women at the fundraiser who discusses how "terrified" her young children were.
It will be interesting to see how members of the media from all political persuasions handle the video as it steadily gains momentum.
Have a tip we should know? tips@mediaite.com