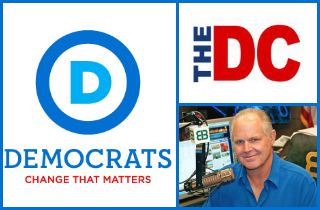 In an Thursday email to supporters, the Democratic National Committee set its sights on conservative news site The Daily Caller, calling it "the Rush Limbaugh of websites" for its enabling the radio host's most recent controversial remark about women.
On Monday, Limbaugh mocked those who want to eradicate "rape culture" by remarking that women's breasts should "stop staring at my eyes." DNC communications director Lily Adams took umbrage at that comment and Patrick Howley's Daily Caller piece that takes a similar tone.
"This Sunday, the Daily Caller — the Rush Limbaugh of websites — piled on with a full-throated defense of sexual harassment," Adams wrote in the DNC email.
"As a woman who happens to be employed by the Democratic National Committee, I am offended by Rush Limbaugh's comments," she continued. "But I'm not alone, and I know there are plenty of women (maybe even some who work at the Republican National Committee) who'd agree that this is the wrong message to send, encourage, or defend."
And so, Adams added, the RNC has the ability, and perhaps the duty, to "reduce the influence held by Rush Limbaugh and the writers of the Daily Caller." Her suggestion for doing so? "All they need to do is encourage their fellow Republican leaders to stop making time for interviews with outlets like these."
She linked out to a DNC petition asking Republicans to "stop enabling rhetoric that condones sexual harassment."
Full email below:

[h/t Jordan Bloom]
— —
>> Follow Andrew Kirell (@AndrewKirell) on Twitter
Have a tip we should know? tips@mediaite.com