'DO YOU HAVE ANY INTEGRITY AT ALL?': Pro-Cruz Radio Host Loses His Sh*t During CNN Segment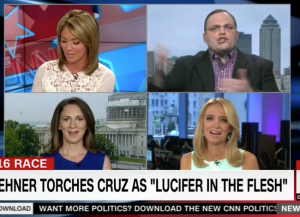 In the world of cable news blow-ups, there at least tends to be some sort of indicator early on in a segment that the conversation may soon be veering off the rails. However, as you'll see in this exchange from Thursday's CNN Newsroom, sometimes things go from Sittin On The Dock Of The Bay level calm to shitshow blow-up in mere moments.
The guilty party was Cruz supporter Steve Deace, an Iowa conservative radio show host, who goes absolutely berzerk on CNN political commentator Kayleigh McEnany at the slightest indication that maybe, just maybe, Donald Trump had a point with his grievance last month over the controversial Colorado caucus system.
McEnany noted that Trump's populist message of voter manipulation was a tough one to beat; the GOP frontrunner has been railing as of late against the system that allowed Texas Senator Ted Cruz to win all 34 of Colorado's delegates, a state that uses a caucus — not popular raw vote — to determine its winner-take-all counts. McEnamy said it, "…take[s] the peoples will out of the equation… throw[ing] out," what the people want. It's a very sane, calm, and collected response, one we've heard a lot in the last month.
Then, hilariously absurd and uncalled for fireworks:
Kayleigh, I don't know you. Seriously, do you have any integrity at all? Is it that important to be on national television?!
The show's anchor Brooke Baldwin veered in immediately, but Deace was able to continue and escalated way out of control quite quickly:
"You darn well know 65 thousand people — I am keeping it professional, she's the one lying! — 65,000 people voted in colorado at this thing called a caucus, called an election. There has been no voterless election. Every delegate is elected… This is the biggest lie and the biggest scam."
Deace took aim even at the media approach to talking-head politics in general, indirectly slamming CNN and invoking another network contributor, Trump surrogate Scottie Nell Hughes. He said, "[M]illions of people are freaking just sick of it. Stop lying! There wasn't a voterless election in Colorado! You're a liar! Stop lying, please!"
Watch the frightening, strange, and certainly entertaining derailment above from CNN.
—
J.D. Durkin (@jiveDurkey) is a columnist for Mediaite.
[image via screengrab]
Have a tip we should know? [email protected]