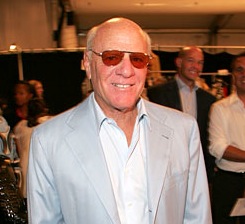 Barry Diller appears to be making a habit of taking well-known media types and giving them a lot of money to reinvent themselves on the web. A LOT.
Diller is currently funding Tina Brown's Daily Beast venture — to the tune of $18 million. The Beast, while clocking good traffic, is not yet making any money (side note: Brown spoke again of her plans for advertising at last weekend's BlogHer). He's also the benefactor of the College Humor gang, they of viral web videos and MTV ascendance — and just announced that he's backing CH co-founder Ricky Van Veen in the creation of an offshoot production company. But wait, there's more!
Yesterday news broke that NBCU bad boy chairman Ben Silverman was leaving the company for a new venture with Barry Diller's IAC. Today, the New York Post is reporting that the venture will be funded by $100 million of Diller's money.
Only Ben Silverman could parlay a two-year hitless streak as NBC's chief programmer into a new gig that gives him total control and $100 million in development money. That's the amount of cash that Barry Diller's IAC plans to use to seed Silverman's unnamed new venture, according to two sources with knowledge of the funding plans….Silverman's new company is a redux of Reveille, the studio he founded and sold to Elisabeth Murdoch's Shine Group for $120 million, netting Diller, an early Reveille investor, a handsome profit in the process.
And that $100 million could possibly double if Silverman is able to convince those gambling Wall St. types to jump on board. Which means Silverman has a lot of cash on had to do with what he pleases, and Diller is apparently hell-bent on increasing his dominance online, risky though it may be.
So just how deep do Barry Diller's pockets go? And if they go deeper than this perhaps he should considering sparing a dime or two to the New York Times! And how long can he sustain the high profile ventures — making a profit online is not an easy or quick thing. Or maybe he simply anticipates that we will all be footing part of the bill for him in the not too distant future; just last month he told a conference that pay walls for content were inevitable.
But otherwise, there's a whole wide web out there for him — just don't try to get him to pay for Twitter.
Have a tip we should know? tips@mediaite.com