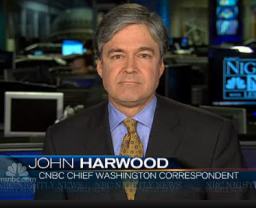 President Obama's speech to the gay community on Saturday night didn't promise anyone the moon, but it was nevertheless well-received, and Obama's reaffirmed commitment to end "don't ask, don't tell" was a historic occasion. Less than 24 hours later, the blogosphere is aflame over a set of remarks attributed to an unnamed White House adviser to the effect that the White House views the National Equality March as "part of the Internet left fringe" and not to be taken too seriously.
Update: The White House press office has just sent us the following statement via another blog: "That sentiment does not reflect White House thinking at all, we've held easily a dozen calls with the progressive online community because we believe the online communities can often keep the focus on how policy will affect the American people rather than just the political back-and-forth."
Yesterday, CNBC's John Harwood had this to report on the Nightly News:
Barack Obama is doing well with 90% or more of Democrats, so the White House views this opposition as really part of the Internet left fringe, Lester.

For a sign of how seriously the White House does or doesn't take this opposition, one adviser told me those bloggers need to take off the pajamas, get dressed, and realize that governing a closely divided country is complicated and difficult.
The first half of this quote could have merely been an impoliticly worded summary on Harwood's part. It seems to be equating the "opposition" — which in this context, sounds an awful lot like gay activists or the gay community — with the "Internet left fringe." But the second half, attributed as it is to an unnamed "adviser," sounds like fightin' words. Bloggers tend to react like piranhas whenever the old "pajamas" line is trotted out, and when the source purports to be somebody in the White House and the subject is a hot-button political issue over which there have been mass demonstrations all weekend, the reaction is that much swifter and stronger. Here are responses from a few from blogs across the spectrum:
From Americablog's John Aravosis, who was one of the first to jump on Harwood's remarks:
So the gay community, and its concerns about President Obama's inaction, and backtracking, on DADT and DOMA, are now, according to President Obama's White House, part of a larger "fringe" that acts like small children who play in their pajamas and need to grow up. (And a note to our readers: The White House just included all of you in that loony "left fringe.")

I wonder how the Human Rights Campaign is going to explain how the White House just knifed our community less than 24 hours after he went to their dinner and claimed he was our friend.
From Another Black Conservative:
Back in July I asked the question if gays were becoming the new blacks of the Democratic Party. Today, it appears we get an answer to that question… So the White House views gay protesters as a "pajama clad Internet left fringe". Funny, that sounds exactly like the attitude Obama had for the Tea Party protesters.
From Slog's Dominic Holden:
[Obama] truly doesn't give a shit about LGBT people. His administration chose Rick Warren to give his inaugural invocation, his lawyers filed a homophobic legal brief defending DOMA, and now his advisers are marginalizing scores of Americans … as pajama-clad fringe bloggers. And when did it become such a sin to be blogger in pajamas?
Mediaite has contacted the White House and is awaiting a response.
Here's the video of Harwood's remarks:
(h/t Slog)
Have a tip we should know? tips@mediaite.com