Donald Rumsfeld Gets Grilled By Interviewer On Iraq War: 'Did You Ever Think About Apologizing?'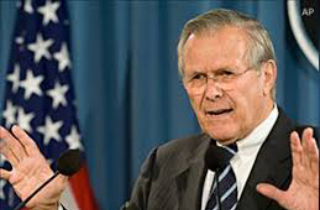 While being interviewed by American Public Media's Marketplace on Thursday, former Defense Secretary Donald Rumsfeld was confronted with the question of whether he's ever considered apologizing for the failures of the Iraq War he advocated for and oversaw during his tenure in George W. Bush's administration.
In light of the former secretary's new book Rumsfeld's Rules, host Kai Ryssdal asked Rumsfeld to assess himself, prompting the former Bush and Ford cabinet member to suggest that "history, over time, will probably be a better judge than you or I."
He added that he has been "struck" by how much criticism the Bush administration has received for the war, asserting that in the future, blame for the war's failures will "probably not sort out that way."
Ryssdal expressed curiosity as to whether Rumsfeld felt remorse or the need to apologize for any of his actions leading up to or during the eight-year war that resulted in more than a hundred thousand deaths, with a bill of more than a trillion dollars.
"I do wonder whether you read Robert McNamara's memoirs when it came out," Ryssdal said, referring to the Secretary of Defense under Presidents John F. Kennedy and Lyndon B. Johnson who later wrote that his conduct during the Vietnam War was "wrong, terribly wrong."
"I have not," Rumsfeld admitted.
"That book was widely seen as an apology for his role in Vietnam," Ryssdal said. "I looked in [Rumsfeld's new book] pretty hard for any rule you might have about apologizing and I couldn't find one."
After a brief pause, the secretary asked, "And? What is your question?"
"Did you ever think about apologizing?"
"Well, my goodness," Rumsfeld replied, "As Napoleon said 'I've been mistaken so many times I don't even blush for it anymore.'"
He continued:
"Sure, you see things that don't turn out the way you hope. You look at intelligence and, of course, if intelligence were a fact, it wouldn't be intelligence. The idea that people concluded President Bush made a terrible mistake by doing it, I think, is something that, over time, will be better understood."
Listen to the exchange below, via Marketplace:
[h/t Political Wire]
— —
>> Follow Andrew Kirell (@AndrewKirell) on Twitter
Have a tip we should know? tips@mediaite.com