Donald Sterling Reportedly Surrenders Control of Clippers to Wife, Who Will Then Sell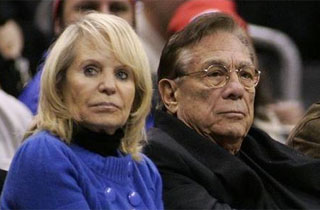 Sources tell TMZ that Donald Sterling has ceded control of the Los Angeles Clippers to his "estranged" wife, Shelly Sterling, so she can negotiate the sale of the team on her terms (and presumably get the most money for the sale).
According to them, Sterling, whose recent gaffes in an Anderson Cooper interview collided with a new NBA report alleging that he attempted to cover up the infamous recording with his mistress, "saw the handwriting on the wall." By giving control of the team to his wife, the NBA would be unable to force an involuntary sale of the Clippers franchise, as Commissioner Adam Silver had threatened to do.
"We're told Shelly realizes the NBA wants the team sold, but she has significantly more leverage and credibility with the league than Donald," they wrote. "Her end game is simple — she won't object to the sale, but SHE wants to call the shots."
Throughout the entire scandal, Shelly's simultaneously attempted to distance herself from her husband's toxic remarks (at one point claiming he had dementia) while asserting her own interest in the Clippers' financials. She claims that she has a 50% stake in the team, and as a result, shouldn't be penalized like her husband.
Silver has openly stated that he wants Shelly gone, too, and extended her husband's ban to her. However, he did offer an alternative during the NBA draft: just sell the team and get it over with. "It is their team to sell, and so he knows what the league's point of view is, and so I'm sure if he wanted to sell the team on some reasonable timetable. I'd prefer he sell it than we go through this process."
[TMZ Sports]
[Image via Danny Moloshok / Reuters]
—
>> Follow Tina Nguyen (@Tina_Nguyen) on Twitter
Have a tip we should know? tips@mediaite.com