Donald Trump: I'm Serious About 2016; Really, I Hired People — Pay Attention to Me!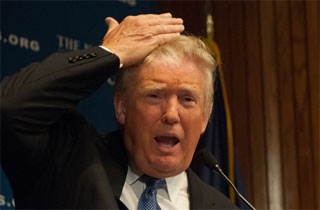 In 2011, Donald Trump publicly flirted with a presidential campaign for a few months before deciding not to. Now it's 2015, and he's doing it again — but this time, he's hiring people.
"NBC has said they want to renew [Celebrity Apprentice]," Trump told The Washington Post. . "But I can't do it right now because I may be doing something else."
Is this "something else" something along the lines "starting a new business"? Is it "pursuing a hip-hop career"? Is it "being a grandfather to Chelsea Clinton's new baby"? Nope, it's probably pretending to run for president again, "because the country is in serious trouble."
But while his 2011 campaign consisted of some bold statements and a speech at CPAC, Trump seems to be taking formal steps. Notably, he recently took a meeting with Republican Party chairman Reince Priebus to formally acknowledge his interest in forming a campaign, though sources stressed that Priebus only "took the meeting because of Trump's status as a prominent donor to the RNC."
And his recent hiring spree hints at some actual campaining 'bout to happen:
Donald F. McGahn, a partner at Jones Day, is counseling the businessman as he takes further steps.

Corey R. Lewandowski, a former director of voter registration at Americans for Prosperity, a group backed by conservative industrialists Charles and David Koch, has been asked by Trump to serve as his senior political adviser and manager for the campaign-in-waiting.

Alan Cobb, a former political adviser at Koch Industries, is another Republican who has signed on with Trump and is assisting with recruitment…

Chuck Laudner, who advised former Pennsylvania senator Rick Santorum's 2012 victory in the Iowa presidential caucuses, will lead Trump's expected campaign there. Laudner's hire was first reported Tuesday by the conservative Breitbart news Web site.

And in South Carolina, Ed McMullen, a political operative who assisted Arizona Sen. John McCain's previous presidential campaigns, has agreed to serve as Trump's state chairman and political adviser. Also on board is state Rep. James H. Merrill.

Advising Trump on communications is Sam Nunberg, a political operative who is an associate of Roger Stone, the famed New York-based GOP opposition researcher.
At the same time, the entire political journalism world is madly reporting on which embryonic presidential campaign is hiring who, so this could also be another publicity-grabbing move on Trump's part. That man and his press acumen is so Darwinian; we're rather impressed.
[The Washington Post]
[Image via Albert H. Teich / Shutterstock.com]
— —
>> Follow Tina Nguyen (@Tina_Nguyen) on Twitter
Have a tip we should know? [email protected]