Donald Trump Just Lost Manhattan to the Guy From Ohio Who Eats Pizza With a Fork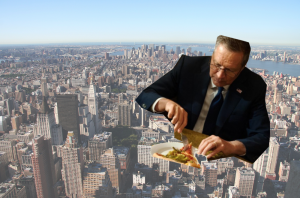 Make absolutely no mistake about it. On this night, Donald Trump — not the candidate, not the mogul, not the reality star, but the man — is heartbroken over the outcome of tonight's New York primary. It has nothing to do with the sweeping delegate count he took home or his overall margin of victory over Texas Senator Ted Cruz. It has to do with his home and the main artery of his entire global empire: New York, New York, so good they named it twice, and its democratic voice that declared loudly Tuesday night: we support Ohio Governor John Kasich.
That's right, Kasich — the guy who eats his pizza with a fork and couldn't tell you where the Knicks play basketball — just defeated Donald Trump in Manhattan.
I'm going to let that one settle there on its own, because that's one hot sentence.
The storylines heading into Tuesday's state-wide primary regarding the Republican race were relatively benign: everyone knew the real estate titan would win big, while the out-of-towners would fight for scrap delegates at the bottom of the heap. By estimates as of this publishing, Trump did win big — 60.1% big state-wide — nearing half a million total votes.
But who would have thought that the home of Trump Tower, the Trump International, and 1290 Avenue of the Americas would head to the polls Tuesday and vote for… Kasich?
Even more remarkable: Manhattan is the only district in all of New York state not to choose Trump as its winner tonight.
Certainly, the demographic of Manhattan island is hardly restricted to the elbow-rubbers at Trump's parties and the wealthy elite. But the irony is rich; the New York hotel baron exceeded his father's ambitions and took on Manhattan from his Queens upbringing. In the weeks leading up to the primary, he preached New York values, and called the city's idealogical conservatives together under the "us" banner. And yet still, somehow, impossibly, Manhattan fell to Kasich.
As of publishing, 1,144 precincts out of 1,183 in Manhattan had reported according to The New York Times election results. Kasich's 11,199 (45.2%) are besting Trump's 10,350 (41.8%) with the F-U caboose from Texas pulling up the rear with 3,193 votes (13%). Tonight, the Empire State Building may be lit up red in celebration of Trump's state-wide victory, but the rest of the borough around it seems to have democratically voiced: Trump is good, but we want great.
—
J.D. Durkin (@jiveDurkey) is a columnist at Mediaite.
This is an opinion piece. The views expressed in this article are those of just the author.