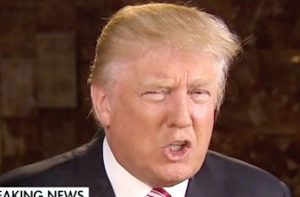 As Donald Trump continues to rail against the media at his campaign rallies and on Twitter, the republican nominee received two endorsements over the past few days which are believed to be his first from daily newspapers in the United States.
The Santa Barbara News-Press of Santa Barbara, Ca., and the St. Joseph News-Press of St. Joseph, Mo. have declared on their editorial pages that they endorse Donald Trump for President.
"We endorse Trump for president in the belief he can bring about fundamental change — not alone, but in partnership with his party and a coalition of others drawn from every walk of life who think we can do better than what government has offered under eight years of President Obama," read the St. Joseph News-Press
These two papers are standing alone, for the moment against unprecedented opposition from every other daily newspaper in America so far which has declared. The Arizona Republic, Dallas Morning News, and Cincinnati Enquirer are among a number of major papers around the country which are bucking long traditions of supporting the GOP nominee for President to instead endorse Hillary Clinton. USA Today, for the first time in its history, weighed in by urging readers to vote for anyone but Trump.
The St. Joseph News-Press counters by saying that Trump, while not flawless, is better than his democratic rival.
"No one will suggest Trump is without flaws and a personal history that is best left in the past. Coarse and even crude behavior on one's record is nothing to be proud of or to put forward as a model for young people. But these matters do not rise to the point of disqualifying him in a race against a candidate who has done so much over the last 30 years to abuse the public's trust."
[image via screengrab]
–
Follow Joe DePaolo (@joe_depaolo) on Twitter
Have a tip we should know? tips@mediaite.com
Joe DePaolo - Senior Editor