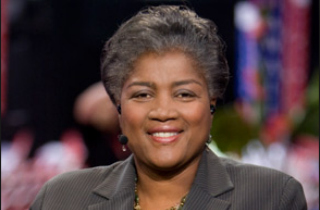 Some Internet buzz happened over the weekend regarding a quote Democratic talking head and CNN contributor Donna Brazile gave the New York Times.
"Go back to 2012, and Mitt Romney showed up at the N.A.A.C.P. after he secured the nomination because he had to," Brazile told the Times in a story about Republican efforts to reach minorities. "He came up to me and said, 'Hi, Gwen,'" Brazile recalled, referring to PBS's Gwen Ifill, who, like Brazile, is black. "Poor thing. He didn't know."
Politico and the Huffington Post, as well as some media pros on Twitter, picked up on the quote, interpreting it as Brazile accusing Romney, the 2012 GOP presidential nominee, of not being able to distinguish the difference between two black women.
Mediaite has reached out to Brazile by email to see if that was what she meant by it. Regardless, she told Mike Allen that the anecdote is "true" but that she "didn't take offense."
"We both laughed it off," she said.
Assuming it is true (we have no reason to believe it's not), it's not inherently racist or even racial to mix up the identities of two people who happen to be the same color.
Brazile and Ifill actually do look alike. They're both black women, yes, but they're also both in their 50s, according to their Wikipedia entries; they both have short hair, similar facial structures, and they both have large, friendly smiles.
In our email to Brazile we also asked if she's ever been confused for someone else before.
The odds are that she has. That's life.
[Featured image via Twitter]
— —
>> Follow Eddie Scarry (@eScarry) on Twitter
Have a tip we should know? tips@mediaite.com