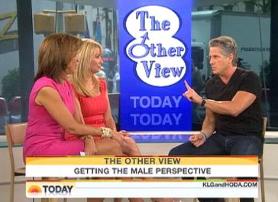 Despite reporting Donny Deutsch would return to MSNBC one week ago, he canceled Sunday night and wasn't back on all last week.
While his MSNBC return post-America the Angry still hasn't occurred, he was back on NBC's Today Show Friday morning.:
We reported Deutsch would make his MSNBC return on Morning Joe last Monday, but Sunday night we added this update:
> Sunday evening update: Deutsch will NOT be on Morning Joe tomorrow. His rep tells Mediaite Deutsch had to cancel because "he had a client issue come up that he has to take care of." We'll update again about when he'll be back on when we know.
Deutsch had previously been appearing on Morning Joe on a weekly basis, so even missing a couple weeks raised eyebrows. But he still hasn't been back on the show, and it will be one-month off the MSNBC air on Thursday. Still, if he's back on Morning Joe in the next week or so, any questions of being held off as some sort of reaction to his Keith Olbermann mention will likely subside.
According to a Gawker tipster, Deutsch was joking about it in a Syracuse University commencement speech.
He then says "it's amazing I've never been thrown off the air."….referencing his time as host of the big idea

Then, clearly referencing his recent spat at MSNBC….

"Actually I have been thrown off the Air"
So while Deutsch remains off MSNBC, for scheduling reasons or your own conspiracy theory, he has been back on NBC as a whole. He spent time on the Today show's 4th hour on Friday for his "The Other View" segment, where he dropped lines like, "[if] you don't get french fries at home and you love french fries, you're going to go to McDonald's." A decidedly un-America the Angry segment…
Here's the clip from Friday:


—–
» Follow Steve Krakauer on Twitter
Have a tip we should know? tips@mediaite.com