Donté Stallworth Details How He Fell for 9/11 Conspiracy Theories (And How He Wised Up)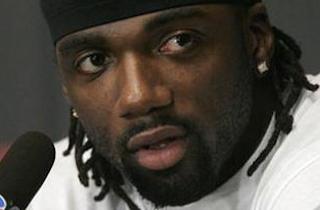 Huffington Post's recruitment of former NFL star Donté Stallworth as its new national security fellow last fall quickly became a fiasco when Stallworth's old 9/11 trutherism surfaced. Stallworth swore he had renounced the theories, but his, and Huffington Post's, sanity was questioned.
For his third post for the site Stallworth detailed Tuesday how he entered the rabbit hole (there's a lot of YouTube and Alex Jones), hoping, he said, to show both the logical fallacies and the government's obfuscatory tics that engendered pathological distrust.
Stallworth said he began to wander away from the tour when he discovered that the U.S. and bin Laden had partnered (ONE MIGHT SAY CONSPIRED) decades ago against the Soviets in Afghanistan. "There began my distrust both of the government and of my own common sense regarding the events of 9/11," he wrote. "If I'd been so wrong about the alliance with bin Laden, what else was I wrong about? What else was the government hiding? This, for me at least, is how the door opened."
Stallworth highlighted the African-American community's all-too-reasonable suspicion of the U.S. government, which makes it more susceptible to claims about subsequent plots. "For many within the African-American community, it is almost commonplace to believe, for instance, that the federal government has been and/or is flooding neighborhoods with guns and drugs that fuel violence within the black community," Stallworth wrote.
"Democracy requires trust to function. And if more than one-third of Americans distrust the government enough to believe that it had something to do with the worst terrorist attack on our soil, that's something the government — and the media — ought to do more than poke fun at."
[h/t Huffington Post]
[Image via screengrab]
——
>> Follow Evan McMurry (@evanmcmurry) on Twitter
Have a tip we should know? tips@mediaite.com