Downton Abbey Congressman's Lavish Spending Includes Taxpayer-Funded Hot Photographer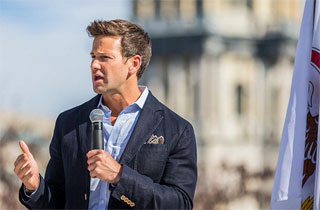 Ever since the world discovered GOP Rep. Aaron Schock's lavish Downton Abbey office, there's been intense scrutiny about the spending habits of Congress's second-youngest member. According to a new Politico article, he's spent quite a lot of taxpayer and campaign money on obscene things — including a handsome young photographer whose full-time job is to follow Schock around.
Schock, the Illinois subject of an ethics complaint about his skirting of spending laws, can best be described as a #richcongressmanofinstagram: tweeting from exotic locales such as Hawaii, Vail, and Patagonia staying in hotels commonly name-dropped by rappers (e.g. the Delano and Fontainebleau), spending $10,000 on Super Bowl tickets, partying with Ariana Grande, and doing even more absurdly rich people things.
The craziest rich person thing Schock does, however, is that he spends taxpayer money on a photographer who follows him around and takes flattering photographs of him:
To keep track of all his comings and goings, Schock has hired a personal photographer. Jonathon Link, a former Dallas-area wedding photographer, now snaps shots for Schock, and both his campaign and taxpayers pick up the bill.
Well, no wonder Schock's Instagram page looks so aesthetically pleasing.
Even putting aside the speculation as to why Schock has hired this particular, suspiciously good-looking photographer — feel free to speculate on your own, Link is quite handsome — it's still disconcerting that Schock's using taxpayer dollars to pay for Link's services. Schock is free to do what he wants with campaign dollars, even if it makes him look totally gauche, but taxpayer dollars are another matter: according to federal law and House rules, Congressmen are prohibited from using taxpayer dollars for campaign activities.
Which makes this statement from Schock's office rather eyebrow-raising:
Schock aides defended employing a full-time photographer; "what is spent on photographers is in line with what is raised as a result."
In summation: look at this expertly assembled video of a sweaty Aaron Schock doing the ALS ice bucket challenge, filmed by Jonathon Link. Then remember that this wet t-shirt contest was probably paid for with your taxpayer dollars.
Aaron Schock – ALS Challenge from Jonathon Link Studios on Vimeo.
And, just for the sake of it, here he is in a fedora, probably paid for with your taxpayer dollars too:
[h/t Wonkette]
[Image via Aaron Schock/Instagram]
—
>> Follow Tina Nguyen (@Tina_Nguyen) on Twitter
Have a tip we should know? tips@mediaite.com