Drones, Cuba, Boko Haram: Obama's YouTube Interviews Actually Packed a Punch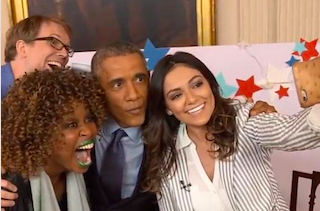 When the White House announced that President Barack Obama would be conducting a series of post-State of the Union interviews with three YouTube celebrities who rarely, if ever, discuss politics on their respective channels, there was a palpable sense of disgust from the White House press corps.
As the traditional political press has done before when the president has opted to give interviews to Entertainment Tonight or People magazine, there was a sense that Obama bypassing the hard-hitting questions in favor of lightweight outlets that wouldn't dare ask him the tough questions.
Nowhere was this feeling more apparent than during last Thursday's White House press conference when CNN's Jim Acosta asked Josh Earnest of the decision, "I'm just curious, was 'Charlie Bit My Finger' or 'David After Dentist' not available?"
Earnest, who admitted he had never seen those popular YouTube clips, defended the move by saying it was no different than the Google Hangout sessions Obama had done in the past, and assured Acosta that it would not "take the place" of a planned press conference Obama was set to give, albeit before Tuesday night's address.
So, now that the YouTube interview session is over, were they as frivolous as everyone expected them to be? They certainly had their less-than-serious moments, from vlogbrother Hank Green asking the president for an autograph at the end of his interview to GloZell Green gifting some of her signature green lipstick to Obama's "first wife." Then, of course there was that selfie they all took at the end:
But along the way, President Obama actually fielded some serious and thought-provoking questions from the YouTube creators.
Hank Green got Obama to admit that more states are likely to legalize marijuana in the wake of Colorado and Washington's success and confirm that the federal government is "not going to spend a lot of resources" enforcing federal marijuana laws in those states. He also asked an important question about drones and received a relatively nuanced answer:
YouTube's @hankgreen asks Obama: did drones forget to be awesome? http://t.co/AqV6aAUKMh

— NowThis (@nowthisnews) January 22, 2015
GloZell Green had the line of the afternoon when she pressed Obama on his new Cuba policy, saying she didn't understand how the U.S. could normalize relations with the Castros, who "put the dick in dictatorship."
She also poignantly recounted cutting the hoods off her husband's hoodies to protect him from potential police violence. "How can we bridge the gap between black, African-American males and white cops?" she asked, presenting the president with a question that actually hit harder because of her personal experience with the issue.
Finally, in Obama's third interview, Bethany Mota posed one of the only questions the president has ever received about Boko Haram. Asked what more the U.S. could be doing to help prevent more death and destruction in Nigeria at the terrorist group's hands, Obama said we have tried to help the government there but that it "has not been as effective as it needs to be" when it comes to finding the missing schoolgirls and protecting its citizens.
Perhaps it's because the media helped set the bar ridiculously low for this afternoon's interviews, but in the end, they actually came off as far more substantive than anyone could have predicted.
For the most part, the White House press corps are very good at their jobs and don't have anything to fear from YouTube's biggest stars. But now we know that even people who give makeup tips to teenagers and eat cereal out of a bathtub are also capable of conducting insightful interviews with the president.
Watch the full YouTube interview session below:
[Photo via screengrab]
— —
>> Follow Matt Wilstein (@TheMattWilstein) on Twitter
Have a tip we should know? tips@mediaite.com