Today, the Drudge Report features this image above a link to a  Yahoo article titled, "Khamenei ally says useless for U.S. to threaten Iran over missile test: Fars":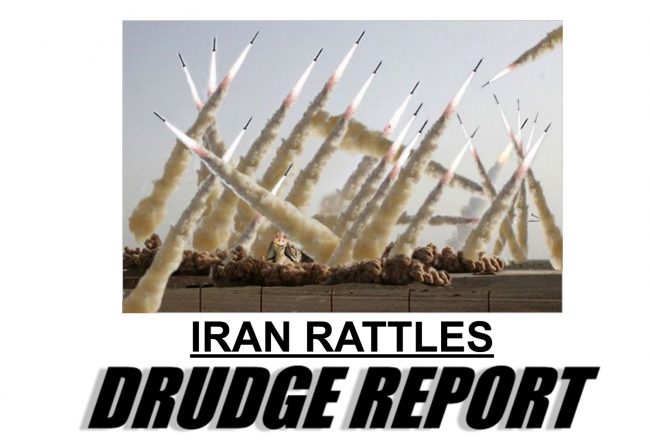 Yes, there is Star Wars' own Jar Jar Binks, peering out from a cloud of smoke and almost blending right in to the scene of missile fire behind him.
Before you go thinking that Matt Drudge is going blind or got trolled hard by a stock photography site, let's talk about the history of this particular image.
Back in 2012, The Atlantic discovered that the altered image of Binks appeared on the website of Iran's "semi-official Mehr News Agency (MNA)." They said this:
On the homepage of its website today, the image appears next to a story downplaying the threat of Iran's ballistic missile program. It's a small image but upon closer inspection, you can see that something is amiss.
It seems to stem from an old Internet prank; MNA appears to have been duped by it. In 2008, Iran was caught photoshopping an extra missile into a photo of a launch, which led Photoshop-savvy jokesters to rag on them mercilessly by altering photos with increasingly egregious additions. The Binks photo was apparently among the slew of gag pictures uploaded to forums at the time, which seemingly led to it being used later by MNA.
We don't know whether Drudge used the Binks image intentionally, though we have reached out to him for comment. It appears that the Binks image tricked editors in Iran when they used it on the MNA site, but even that is dubious. As The Atlantic points out, it was originally used on May 4, which is also known as Star Wars Day.
The only issue, of course, is that today isn't Star Wars Day. We will update this post if we learn more about the intentions behind the photo.
[image: screengrab]
Have a tip we should know? tips@mediaite.com