Duck Dynasty's Phil Robertson Has Asked To Be Part of Donald Trump's Cabinet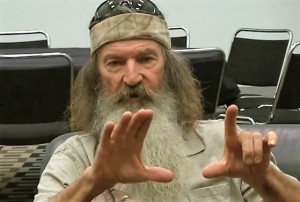 Social conservative icon and Duck Dynasty star Phil Robertson has come around to supporting presumptive Republican presidential nominee Donald Trump after having first endorsed Trump rival Ted Cruz, and now it seems he's trying to work his way into a Trump administration. Robertson first floated the idea of becoming Trump's "spiritual adviser" a few months ago, but in a recent interview with Gordon James Klingenschmitt, says that he has sent "multiple people" to Trump to request that he consider becoming born again in Christ, and make Robertson part of his cabinet (along with Newt Gingrich) as "spiritual adviser":
I've requested, sent multiple people to him, and they all laughed when I said it, but the ultimate for America would be we convert Trump… I can see it now, Donald Trump and his cabinet, and there's ol' Newt or one of those guys that get in there, or Sessions, and the camera keeps paning over and they get to me and they say "This man is his spiritual adviser."
Robertson might be a better fit for Secretary of Homeland Security, given his ambitious idea to defeat ISIS. He told Klingenschmitt that the terrorist group was all set to stop killing Americans a few weeks ago, but the Supreme Court went and messed it up:
They, on the day of that Supreme Court decision, they were jumping and hollering, they were basically saying "We can kill 'em! We can keep killin' 'em!" They loved it!
So far, it doesn't appear that Trump's campaign has responded to Robertson through any of his operatives, but with the Republican National Convention fast approaching, maybe there's a surprise announcement in the works. According to Right Wing Watch, this interview was conducted at last week's Western Conservative Summit.
This is an opinion piece. The views expressed in this article are those of just the author.