Dylan Ratigan On The Media: "The Easiest Way To Draw The Crowd Is With Cheap Entertainment"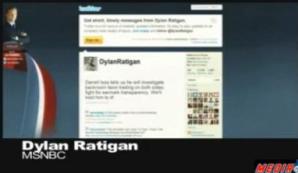 MSNBC's Dylan Ratigan doesn't toe any party line, and his take on the American political process is unique and unpredictable. Suffice to say, he's not happy with the direction of the country.
We talked to Ratigan on Mediaite Office Hours last week about the culpability of the press, the airplane/peanuts analogy and more.
Ratigan said the media was "hugely, tremendously, unbelievably" culpable in allowing the politicians from both sides to continue the direction of the country. "The media is along the project because it's profitable," he told us. "As long as I'm playing horse race, who's up who's down…How does TV work? I get a big crowd to look at it, I sell ads against that crowd, I get rich – the media company, the host, whatever. The easiest way to draw the crowd is with cheap entertainment: horse racing, screwing off."
Ratigan also explained this analogy regarding Tuesday's election, which saw the Republicans take power in the House: "Imagine you've got an airplane that's kind of out of control and everyone on the airplane is arguing about the peanuts." He expanded on this throughout the interview.
One more (uncensored) note from Ratigan on the current election system:
You know that if you spend a lot of money and you don't get much, that you've got a fucked up system…When you look at this midterm election, to me, was a reflection that this political system, that's supposed to engage the voter, is so corrupt and so rigged with both gerrymandering, high tech gerrymandering, and redistricting and a primary system that bastardizes the process.
Not exactly a cheery outlook, but certainly something you don't hear everyday from the typical cablers. Check out the full, wide-ranging interview below, including why Ratigan (who does podcasts now on DylanRatigan.com in addition to his 4pmET MSNBC show) says he won't run for political office but will run for "cable guy":

—–
» Follow Steve Krakauer on Twitter
Have a tip we should know? tips@mediaite.com