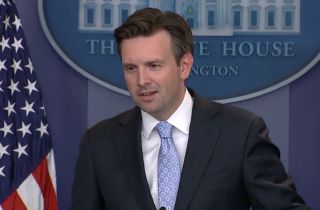 White House Press Secretary Josh Earnest condemned Republican presidential candidate Ben Carson for saying that he would not be comfortable with a Muslim in the Oval Office, telling reporters at Monday's press briefing that "there will be consequences" for the remarks.
"We've seen a willingness on the part of many of those candidates to countenance offensive views, all in pursuit of political support, and in the case of the Republican primary, in pursuit of votes," Earnest said, adding he is "disappointed" that other GOP candidates have not denounced Carson. "And it's for the same reason — because they're chasing for the same votes."
Appearing Sunday on Meet the Press, Carson said he "would not advocate that we put a Muslim in charge of this nation" because he believes that Islam is "inconsistent with the values and principles of America."
Earnest struck a similar tone as he did last week when responding to Donald Trump's refusal to correct one of his supporters who said that President Barack Obama is a Muslim and not an American citizen. "They're looking for those same votes," Earnest said of Republican candidates' refusal to condemn Trump's "cynical strategy."
Carson's comments were roundly criticized in Democratic circles — everyone from DNC Chair Debbie Wasserman Schultz to Hillary Clinton, Bernie Sanders, and the Council on American-Islamic Relations sounded off. On the Republican side, Sen. Ted Cruz (R-TX) said the Constitution does not support Carson's belief, while Louisiana Gov. Bobby Jindal said he would be comfortable with a Muslim president as long as that person "respect[s] the Judeo-Christian heritage of America."
Carson's business manager, Armstrong Williams, told CNN Monday morning that the former neurosurgeon has no plans to apologize for the remarks.
"The fact is, this is not something that consistent with the values of the vast majority of Americans," Earnest added. "And, ironically enough, I actually do think that the views articulated by Dr. Carson are entirely inconsistent with the Constitution that does actually guarantee the freedom of religion in this country."
Earnest concluded that Carson's remarks will have consequences with voters "both in the primary but also in the general election."
Watch the video below, via NBC News:
[Image via screengrab]
— —
>>Follow Andrew Desiderio (@desiderioDC) on Twitter
Have a tip we should know? tips@mediaite.com