Edward Snowden Blasted New York Times Leaks In 2009: Leakers 'Should Be Shot In The Balls'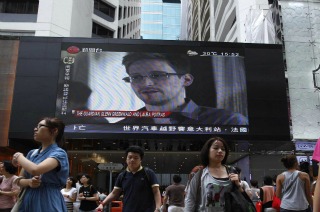 During a 2009 trip to Switzerland, National Security Agency leaker Edward Snowden logged into an internet chat room he frequented to cure what was apparently a case of homesickness and general loneliness. According to a report in Ars Technica, which got a copy of the chat logs, Snowden riffed off a New York Times story about cyber-attacks in Iran designed to slow the nation's acquisition of a nuclear bomb. Whoever leaked that story to the Times, Snowden opined, "should be shot in the balls."

The Ars Technica report begins by noting that, by 2009, Snowden's relatively average existence was "becoming the adventure he'd been looking for."
Snowden would soon move into a four-bedroom apartment covered by the agency. He'd blow off parking tickets, citing diplomatic immunity. He'd travel the continent. He befriended an Estonian rock star ("the funniest part is he's a SUPER NERD"), raced motorcycles in Italy, took in the Muslim call to prayer from his Sarajevo hotel room, and formed opinions about the food and the women in Bosnia, in Romania, in Spain.
During that January, 2009, chat session, Snowden – who went by the online moniker TheTrueHOOHA — turned to the state of America's intelligence infrastructure and the "fucking politician" then President-elect Barack Obama had nominated to run the CIA.
< TheTrueHOOHA> HOLY SHIT
http://www.nytimes.com/2009/01/11/washington/11iran.html?_r=1&hp
< TheTrueHOOHA> WTF NYTIMES
< TheTrueHOOHA> Are they TRYING to start a war?
Jesus Christ
they're like wikileaks
Snowden's chat partner was underwhelmed.
"They're just reporting that, dude," Snowden's chat buddy said.
"They're reporting classified shit," Snowden shot back. "Moreover, who the fuck are the anonymous sources telling them this? Those people should be shot in the balls."
Snowden went on an anti-New York Times rant noting that the paper is the same organization that "blew the whole "we could listen to Osama's cell phone" thing."
"Hopefully they'll finally go bankrupt this year," Snowden yearned.
Read the full report via Ars Technica
> >Follow Noah Rothman (@NoahCRothman) on Twitter
Have a tip we should know? tips@mediaite.com