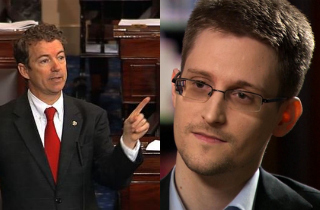 Beginning Wednesday afternoon, Sen. Rand Paul (R-KY) embarked on what ended up being a 10 and a half hour speech from the Senate floor that may or may not have technically been a "filibuster" against the renewal of the Patriot Act and the NSA's bulk data collection.
The fact that this debate over surveillance is happening at all is primarily due to the revelations brought forward by NSA whistleblower Edward Snowden two years ago, a point the still-exiled Snowden readily acknowledged in a Reddit AMA on Thursday.
Here's what Snowden had to say about Paul's stand:
It represents a sea change from a few years ago, when intrusive new surveillance laws were passed without any kind of meaningful opposition or debate. Whatever you think about Rand Paul or his politics, it's important to remember that when he took the floor to say "No" to any length of reauthorization of the Patriot Act, he was speaking for the majority of Americans — more than 60% of whom want to see this kind of mass surveillance reformed or ended.

He was joined by several other senators who disagree with the Senate Majority leader's efforts to sneak through a reauthorization of what courts just weeks ago declared was a comprehensively unlawful program, and if you notice that yours did not take to the floor with him, you should call them right now (1-920-END-4-215) and ask them to vote against any extension of the Patriot Act, because the final vote is being forced during the dark of a holiday weekend to shield them from criticism.
Snowden, who hosted the AMA session along with a representative from the ACLU, urged participants to call their senators, especially Majority Leader Mitch McConnell (R-KY) and let them know they want to kill the extension of Section 215 of the Patriot Act, set to expire on June 1.
Watch the beginning of Paul's Senate floor speech below, via C-SPAN2:
[Photo via screengrab]
— —
>> Follow Matt Wilstein (@TheMattWilstein) on Twitter
Have a tip we should know? tips@mediaite.com