El Chapo's Family Gets Drug Lord's Name Registered as Trademark for Merchandise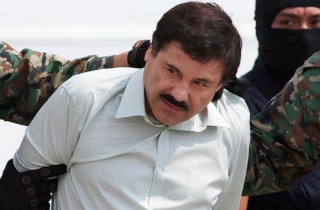 If you ever wanted to try to impress the cool kids with your very own licensed and certified El Chapo lunchbox, well, your chance could be right around the corner.
It seems that getting a movie made about himself wasn't enough for Joaquin 'El Chapo' Guzman, because now the Latin American Herald Tribune is reporting that the notorious drug lord's daughter scored the rights to his nickname and several variations. Alejandrina Gisselle Guzman Salazar registered several trademarks with the Mexican Institute of Industrial Property, which will allow her family to establish legal rights over her father's appearance on merch like T-shirts, jewelry…and even Christmas decorations. Make sure you double-check the El Chapo Decorative Artificial Snow.
Guzman is regarded as a folk hero among certain communities in Mexico, and his arrest prompted a business fad in which his face and name started appearing on many different kinds of products. The drug lord and his family have filed numerous applications since 2011 to gain control over his name's use, but the IMPI always denied their requests, saying it was 'contrary to morals and good customs and public order' due to his criminal and fugitive status.
While "Guzman" and other related names were rejected, it seems that the Mexican government had no problem with approving four trademarks for the plain old "El Chapo." The government's trademark classification system makes it difficult to see what sort of business strategy the trademark will be used for, but a variety of products have already been legally approved, and more could be pending.
While El Chapo has been back behind bars for the past several weeks, his case continues to draw attention over whether he will be extradited to the U.S., and what his capture will mean for Sean Penn and Kate del Castillo, who played a role in locating him.
[h/t Quartz]
[Image via screengrab]
— —
>> Follow Ken Meyer (@KenMeyer91) on Twitter
Have a tip we should know? tips@mediaite.com