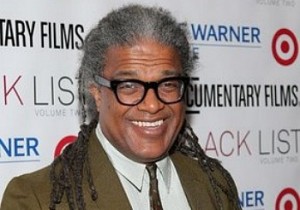 Elvis Mitchell is out as a film critic for Movieline.com, ostensibly due to questions surrounding his review of Summit Entertainment's Source Code (the movie about Jake Gyllenhaal running around on an exploding, and also something about time travel). A small section of Mitchell's mostly negative review referred to a scene where a character smokes a pipe – a scene that happened to exist in early drafts of the movie's screenplay, but which never made it onto the screen.
This prompted the following Tweet from Source Code director Duncan Jones:
Find it odd Movieline choose to complain about Jeffrey Wright smoking a pipe, something in an old draft of the script thats not in the film.
Deadline's Nikki Finke asked Movieline about the discrepancy, and was told that the website had "indeed been working hard for a week to ascertain exactly what happened…" Later, she discovered that Mitchell had told The Powers That Be at Movieline that he was indeed at the screening. In any case: After having been hired about three months ago, he's no longer with the site.
Finke also notes that this isn't exactly the first time Mitchell has made something of a hasty exist from a job, pointing to a New York Times article following his departure from the paper. [Ed. note: This has nothing to do with Mitchell's Movieline drama, but it was too… New York Timesy… not to point out: "Mitchell, over six feet, with two-foot-long dreads (which he tends with Kiehl's products), robed in Costume National and Helmut Lang, will never be your average be-khaki'd Timesman."] The article notes that Mitchell "never seemed to make time" for his role at the Times, and needed substantial help focusing his reference-laden reviews.
Mitchell was also fired after six months at Paramount due to conflicting reporting duties at NPR, was out as Roger Ebert's co-critic Ebert Presents At the Movies shortly after he was announced as joining the show, and reportedly "never showed up" to fulfill his duties as Columbia Pictures' liaison, of sorts, to projects by and opportunities for non-white industry talent.
h/t Deadline.com
Have a tip we should know? tips@mediaite.com