Emails Revealing Affair With WSJ Reporter Endanger Iraq Ambassador Nomination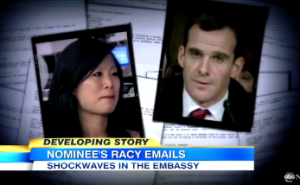 President Obama's nominee to be U.S. Ambassador to Iraq, Brett McGurk's intimate emails to Wall Street Journal reporter Gina Chon were published online by Cryptome. Senate sources told ABC News that support for McGurk's nomination has suffered since emails leaked.
Chon and McGurk reportedly started seeing each other in 2008 when they were both working in Iraq. Via ABC News:
McGurk, who was married at the time, was serving as chief negotiator during the 2008 U.S.-Iraq security agreement talks. Chon was covering the negotiations for the Wall Street Journal. McGurk later divorced his wife and married Chon.
The emails (whose authenticity was confirmed by ABC News) have a good dose of sexual references (including masturbation and "blue balls") — and so far, McGurk has not commented on them. Meanwhile, according to a WSJ spokesman, the paper is looking into the matter and Chon has taken a leave of absence. Per the statement, via Gawker:
We are looking into the matter. Ms. Chon, currently a reporter in Money & Investing, asked for a formal leave of absence from the Wall Street Journal in March when it appeared her then-fiancé might be nominated as ambassador to Iraq. The request was granted at the time, and the leave is scheduled to begin later this summer.
The issue here obviously is conflict of interest. McGurk at one point talks about bringing Chon with him to dinner with an Iraqi politician (though, in the end, he does not). In another email, McGurk advises Chon on who to speak with for one of her stories.
"Some of the emails indicate that McGurk and the Wall Street Journal reporter were exchanging information at the same time they were beginning their relationship," said Josh Rogin of Foreign Policy magazine. "That doesn't necessarily mean that there was impropriety, it creates the appearance of impropriety."
Nonetheless, some sources told ABC News that McGurk still has a good chance of being confirmed. "As a Republican and former Bush White House national security staffer," McGurk has a good chance of "surviving the scandal."
UPDATE: ABC News reports that State Department spokesperson Victoria Nuland responded to the scandal, underlining support for the McGurk. Her response:
"He spent the better part of the last decade serving our country in and out of Iraq, working for a Republican administration, a Democratic administration," she told reporters. "He is in our view uniquely qualified to serve as the ambassador and we urge the Senate to act quickly on his nomination," she said.
Nuland did not directly address the emails. Asked about the vetting process, Nuland said "all of the necessary things were done before his nomination."
Take a look at the ABC News report:

(H/T ABC News)
Have a tip we should know? tips@mediaite.com