Enemy of the Good: Conservatives Take Aim at Chris Christie for 'Embracing' Gay Marriage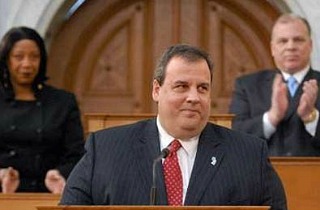 New Jersey is now the 14th state to recognize same-sex marriage rights after the state Supreme Court upheld a lower court ruling which declared limiting marriage rights to heterosexual couples to be discriminatory. The Court refused a petition from Gov. Chris Christie to hold off on this ruling until they determine that defining marriage as existing only between a man and a woman is unconstitutional — a ruling observers believe is almost certainly forthcoming next year. After losing a series of challenges Christie's office withdrew their appeal to the New Jersey Supreme Court, ensuring that all same-sex couples can now wed in the Garden State.

Christie lost the battle over same-sex marriages, but it was a defeat and not a capitulation. New Jersey's governor has consistently opposed same-sex marriage rights on principle. Before Hurricane Sandy ensured that Christie was a lock for reelection, the Democratic legislature passed on holding a referendum on the issue in 2012 – a ballot measure certain to pass – in order to cudgel the governor for his bigotry during the 2013 campaign season. The result of this impasse has been that New Jersey was the only Northeastern state to refuse same-sex couples the right to marry. The Court resolved this stalemate.
Court-imposed resolutions to divisive social debates are rarely optimal. More often than not, those rulings harden the positions of opponents in ways that legislative solutions to complex and volatile social issues do not. But the governor's office had no recourse left. Christie acknowledged an immovable object and chose to cut his losses.
Today, however, conceding inconvenient political realities is tantamount to "surrender." Some conservatives are taking aim at the governor on Monday morning for "embracing" gay marriage, as exemplified in this headline on Monday morning's Drudge Report:
In the same way congressional conservatives' intransigence robbed the Republican Party of at least a handful of resolutions to the government shutdown and debt ceiling crisis that they could have plausibly considered political victories, conservatives are now attacking Christie for failing to fight a losing battle to the death. Those conservatives groups who suggest that Christie had another option to continue to oppose gay marriages in his state are misleading their supporters. He did not. Similarly, conservative group mislead grassroots Republicans into believing that GOP representatives in Congress who acknowledged their defeat last week merely lacked sufficient resolve to continue the fight.
And to suggest that Christie "embraced" gay marriage is more than just misleading. It is downright false.
In a gubernatorial debate last week, Christie fielded a series of questions from moderators over his opposition to same-sex marriage rights. One especially cutting moderator pressed Christie about how he might explain his position to his children if they came out to him as gay. The politically expedient course for him would have been to moderate his position on same-sex marriage. Instead, Christie chose to stand by his principles.
"I'd grab them and hug them and tell them I love them," Christie said. However, the governor added that he would also explain, "Dad believes marriage is between one man and one woman."
"My children understand that there are going to be differences of opinion in our house and in houses all across this state and across this country," Christie added.
In light of the fact that New Jersey voters favor gay marriage rights by 61 to 32 percent, according to an October Quinnipiac poll, Christie's response should be considered the height of political courage. But by opting for a strategic retreat on the issue of marriage rights in order to fight more consequential battles later on, he is labeled a defeatist by conservative perfectionists.
This is an example of an impulse among conservative groups that will rob them of future victories. The Founders designed a system in which it is nearly impossible to achieve the perfect. The good is almost always the most desirable outcome for nearly any political fight because that is almost always the only attainable option.
Conservatives will continue to handicap themselves if they determine that ideological homogeneity and stubbornness are ideals to which the Republican Party must aspire.
[Photo via AP]
— —
> >Follow Noah Rothman (@NoahCRothman) on Twitter
Have a tip we should know? tips@mediaite.com