Every Thanksgiving, without fail, website after website churns out those "How to Discuss Politics at Thanksgiving" posts, and it's really starting to get tiresome. Why try to ruin a family occasion by encouraging people to trot out talking points during a family gathering?
Now, let's be clear. There are two types of "politics on Thanksgiving" posts: Ones that tell you to maybe just avoid it altogether; and ones that egg you on, giving you talking points, because what would Thanksgiving arguments be without a website handing you talking points for the holidays.
Slate's John Dickerson has published guides like this for the past several years, but to his credit, this year his piece is titled "Don't Argue Over Thanksgiving Dinner!" and instead of arguing over politics, he recommends just very silly debate topics instead. The Atlantic's guide to talking politics doesn't so much focus on what you're discussing but how you discuss it.
The LA Times has an op-ed that's part lecture, part Kumbaya. It doesn't take sides, really, except for the fact that the piece is titled "What to do if your crazy right-wing uncle comes for Thanksgiving." Gee, thanks.
Mic.com not only helps you argue with your conservative relatives, their guide is to *winning* those arguments.
And here's just a list of posts from ThinkProgress alone:
How To Talk To Your Climate Denier Uncle This Thanksgiving
How To Talk To Your Tea Party Uncle About Obamacare This Thanksgiving
How To Talk To Your Evangelical Uncle About Marriage Equality (yes, it's also about Thanksgiving)
How To Convince Your Right-Wing Uncle To Act On Climate Change This Thanksgiving
What You Need To Know To Win An Immigration Argument With Your Right-Wing Uncle This Thanksgiving
Even Time magazine has a "How to Argue About Immigration Over Thanksgiving" piece.
And then there's Vox. Here's a screen capture of their Thanksgiving guide, just to give you some idea of how far they're taking this: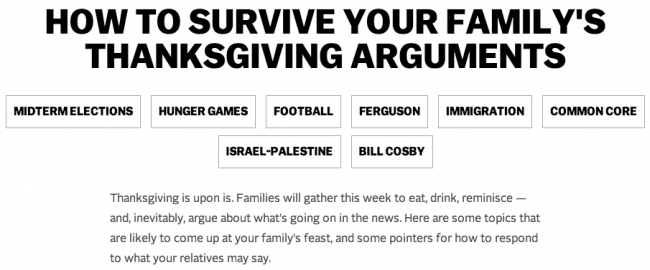 Let's look at the first questionable issue right off the bat: Hunger Games is a topic of discussion. Yes, Vox's guide goes even beyond politics and shows you how to respond to relatives who say "The Hunger Games books and movies are about fomenting distrust in the government" or "These books are trash, because kids read trash, and kids read The Hunger Games."
Then there's the other questionable topic: Bill Cosby. Do you really think most families would feel comfortable talking about Bill Cosby around the Thanksgiving table? If so, Vox has a few arguments at the ready for you.
They also go into detail about how to respond to relatives who ask why Obama hates Israel, who say that the midterms were a waste of time (good luck not sounding condescending on this one), and who wonder why people aren't rallying behind Darren Wilson.
Yeah, I'm not so sure any one of these powderkeg issues needs encouragement to light the fuse.
Now, credit here to National Review's Charles C.W. Cooke for writing a hilariously over-the-top rebuttal to Vox's guide. Here's a highlight: "If you missed Politics 101 at Oberlin, refer to the Fact Cards that you have printed out from Vox.com and explain patiently that the government is the one thing that we all belong to and that the worry that it is "too big" or "too centralized" or "too slow to achieve basic tasks" has a long association with neo-Confederate causes."
So maybe try to not trot out talking points on Thanksgiving so that no one's shouting at each other (or, at the very least, shouting at each other over things like how much they hate one another as opposed to how much they hate Obama/Republicans/Obama again).
In fact, let me show you how all these posts should really go:
How to Deal with Politics During Thanksgiving Dinner

Just don't be a dick, okay?
There. You're welcome.
[image via Vox]
— —
Follow Josh Feldman on Twitter: @feldmaniac
Have a tip we should know? tips@mediaite.com
Josh Feldman - Senior Editor