Eric Trump was delighted to discover an article that proved — proved — that protesters at Trump rallies were paid by the Clinton campaign.
"Finally the truth comes out!" he wrote, appending the hashtag CrookedHillary and a link that, at first glance, pointed to a damning ABC News article exposing a plot to enrich hired protesters at Trump events to the tune of $3500.
Finally the truth comes out! #CrookedHillary https://t.co/z6Xm6ZcCoX

— Eric Trump (@EricTrump) October 12, 2016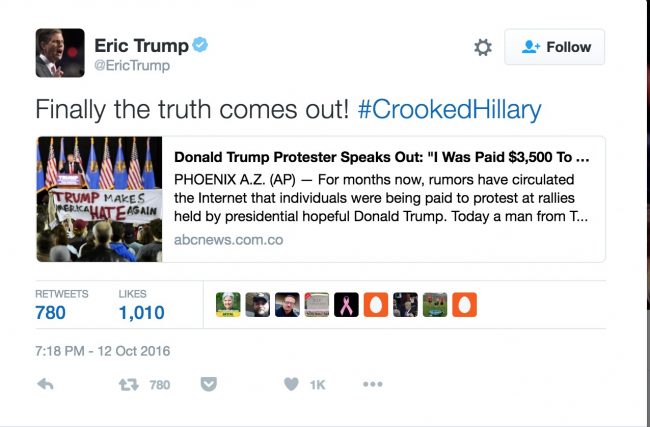 The only problem is the article is completely fake, as is the "ABC News" site on which it appears, a fact that Trump may have picked up on if he had noticed the curious ".com.co" domain.
Or the fact that the article purports to be from the AP but continually refers to its own reporting as that of "ABC News."(And, c'mon guys, the article didn't even follow AP style.)
Or the fact that Trump supporter Ann Coulter and former campaign manager Corey Lewandowski tweeted out the exact same fake story in March.
The tweet pointing to the fake article was up for an hour before Trump deleted it.
If the article is bogus, the canard among Trump supporters that protesters are being paid to disrupt rallies is not. After a Trump rally in Chicago was called off because of rowdy demonstrations that turned violent, the campaign began to disseminate conspiracy theories about George Soros and Democratic candidates bankrolling the activities of anti-Trump protesters.
—
[image via shutterstock.com]
Sam Reisman (@thericeman) is a staff editor at Mediaite.
Have a tip we should know? tips@mediaite.com