Eric Trump's South American Business Trip Cost American Taxpayers Nearly $100,000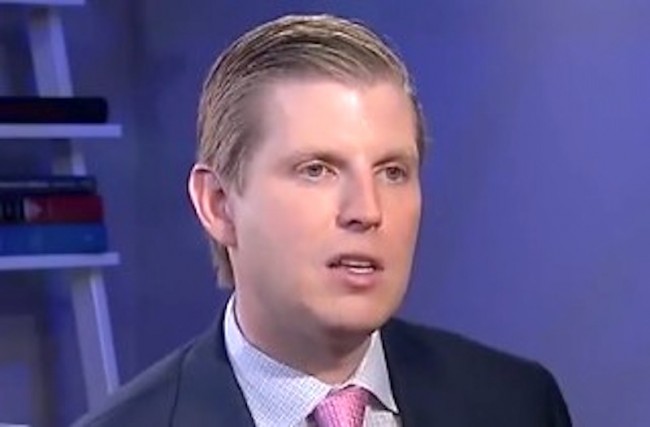 A promotional trip for the Trump Organization made last month by one of the president's sons cost American taxpayers $97,830 in hotel bills, according to a new report by the Washington Post.
Eric Trump's trip to Uruguay, which took place before President Donald Trump's inauguration, included costs to house members of the Secret Service and embassy staff.
The bill for the Secret Service's hotel rooms in Uruguay totaled $88,320. The U.S. Embassy in Montevideo, the capital city of Uruguay, paid an additional $9,510 for its staff to stay in hotel rooms to "support" the Secret Service detail for the "VIP visit," according to purchasing orders reviewed by The Washington Post.
The paper noted that despite the use of public funds, government agencies wouldn't provide many details on the trip, such as where they stayed or how long the trip was. The money was paid by the State Department, however a spokesperson for the agency referred the Post to the White House and Secret Service for comment.
A government ethic expert, Kathleen Clark, told the Post that this "is an example of the blurring of the line between the personal interest in the family business and the government." She also noted that while there is a "public benefit" in providing protection to the president's immediate family, the use of the Secret Service here "raises the specter of the use of public resources for private gain."
There have been widespread concerns over conflicts of interest when it comes to the president's businesses. While POTUS has resigned his positions in his numerous companies, he has not divested nor placed his interests in a blind trust, instead handing control to his two grown sons.
[image via screengrab]
–
Follow Justin Baragona on Twitter: @justinbaragona
Have a tip we should know? [email protected]