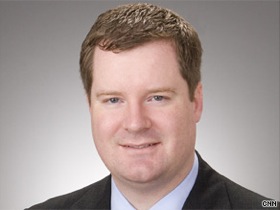 "Apparently the only thing that left and right agree on in America is that conservatives shouldn't be on CNN — they should be on Fox."
— CNN contributor and RedState.com Editor Erick Erickson in a New York Times profile of him today.
The New York Times takes a look at the reaction since RedState.com Editor Erick Erickson was named CNN contributor in March. Erickson has heard it from all sides – but as the Times story shows, it's uncharted territory to appoint an outsider to the pundit position:
Unlike most of his peers at the network, including James Carville and Donna Brazile, top Democratic strategists with presidential campaigns under their belt, Mr. Erickson is a party outsider who spends much of his time needling Republicans to purge Washington insiders and opportunists.

After he was hired, CNN was accused of pandering to the right and abandoning its commitment to credibility. David Bohrman, the network's senior vice president for programming, said, "We're just trying to bring in the influencers who have something to say."
Erickson, who could be classified as a blogger, had a track record of making a few controversial statements on the web before he was hired (and some since he's started at CNN). But while the left has their ammunition, so does the right. Erickson recently spoke out against the tea party movement, and "left" the group.
Erickson is a political and media outsider, which makes his point of view refreshing (whether you agree with his points or not). And at just 34-years-old, he's on the young end of the spectrum when it comes to punditry. It's a sad state of media affairs that Erickson so freely admits the "left and right agree" conservatives belong on Fox, not CNN. CNN needs his voice, just like Fox and its news competitors need to expand their rosters to allow for new voices.
• Related: Erickson was on with Anderson Cooper last night to discuss birther hate mail.
—–
» Follow Steve Krakauer on Twitter
Have a tip we should know? [email protected]