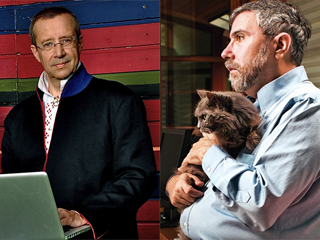 Toomas Hendrik Ilves, the President of Estonia, has a Twitter feed full of ire for New York Times blogger Paul Krugman, who wrote a short blog post today with a graph he argued disproved the claim that Estonia's economy was doing well. Ilves' Twitter account began attacking Krugman after linking to the piece this afternoon, garnering the praise of many conservatives for attacking basically everything short of the typo in the URL to Krugman's article.
RELATED: New Tone? Paul Krugman Wonders If GOP Are 'Manchurian Candidates' Who Want To 'Bring Down America'
The pithy post that seems to have set off President Ilves is this one, in which Krugman claims that the Estonian economy is not doing what any reasonable person (by Krugman's definition, of course) could describe as "booming," derisively referring to Estonia as a "poster child for austerity." Ilves' account responded with several near profane tweets, including some in which he close to called Krugman a bigot for attacking his country's economy: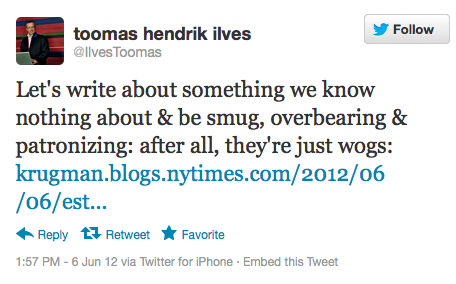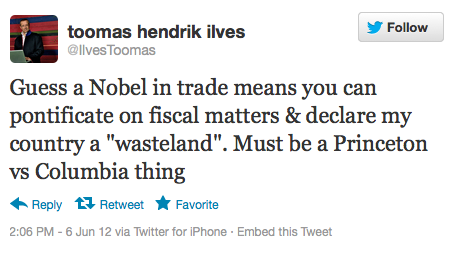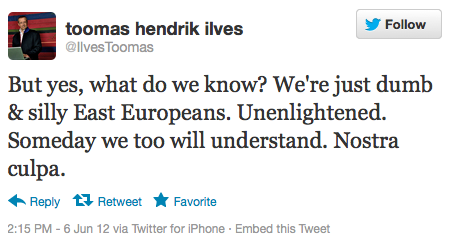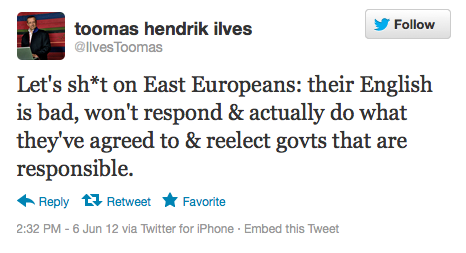 Apparently following a tidal wave of conservative followers on Twitter, Ilves felt the need to clarify that he was "not conserv. or leftist. Just can't fathom why following agreed upon EU fiscal rules justifies smug & snide gloating re: my country." No word from Krugman at press time.
So, is the premier of a major Eurozone nation sitting around on his laptop typing works like "chill" and "ya'll" while blasting a favorite American conservative punching bag? Business Insider went as far as to find references to his Twitter account on his website and his official Facebook page, so it seems like a real enough Twitter account– more coherent-sounding than Hugo Chavez's word-salad, anyway. And it's a story one wants to believe in, if not because Krugman getting a tongue-lashing from someone with actual experience in making economies work is such delicious vicarious revenge, because the first tweet from Ilves' account is this one:


[Photos via Twitter, Reason]
—–
» Follow Frances Martel on Twitter
Have a tip we should know? tips@mediaite.com